Blond, telegenic and tough as nails, Stephanie Cutter, President Obama's ubiquitous deputy campaign manager, isn't afraid of a little made-for-TV mudslinging.
In recent days, Ms. Cutter, 43, has emerged as the face of the Obama campaign on cable news and YouTube videos, offering up crisp, cutting criticisms of Republican challenger Mitt Romney's corporate career, his record on immigration, women's contraception and health care reform, not to mention his connections to Wall Street and wealthy donors such as the Koch brothers.
Some Republicans said these criticisms went over the line.
As a 20-year veteran of national politics, having worked with Bill Clinton, Edward M. Kennedy and other high-profile Democrats, Ms. Cutter can sense moments in the campaign when there is blood in the water and it's time to go for the jugular.
Last week, she came under intense partisan fire for suggesting that Mr. Romney may have committed a felony by having his name remain on Bain Capital's SEC filings years after he said he ended active involvement with the private equity firm.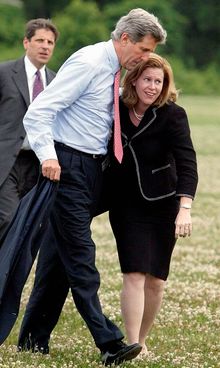 The remark has been the source of escalating acrimony between the Obama and Romney camps.
Mr. Romney has denied any wrongdoing and personally demanded an apology, but the Obama campaign insists that Ms. Cutter isn't walking back her comments in any way.
"She raised the question about whether he was misleading the American people or misleading himself to the SEC," Obama campaign spokesman Ben LaBolt told The Washington Times. "The only person who is walking anything back or has changed his tune is Mitt Romney, who is now saying that he was no longer involved in day-to-day operations" at Bain after 1999.
Either way, the damage had been done, with Ms. Cutter's "felony" remark having gone viral on liberal and conservative blogs alike.
Learning from Clinton
Ms. Cutter can thank Mr. Clinton, an early political mentor and master of rapid response, for her aggressive, shoot-from-the-hip style, having served him as deputy communications director in the White House in the 1990s. But her abrasive style has proved a liability at times.
"She can be very tough and hard-charging. Once you agree on a plan, she is very good on making sure everybody abides by it," said one longtime Democratic aide, who didn't mean it as a compliment.
Others give her credit for keeping disparate Democratic factions focused. During the health care debate, Ms. Cutter served as Mr. Obama's point woman on Capitol Hill, making sure everyone remained engaged and enthusiastic despite the firestorm of criticism against congressional Democrats at town-hall meetings across the country in the summer of 2010.
"Stephanie was fired up and engaged, and that set the tone for everybody else," said David Di Martino, a longtime Democratic operative. "She played a very important role in keeping the whole fight and the effort going and on message."
Corralling Democrats, who usually aren't known for their discipline in sticking to the party's preferred message, and enforcing a consistent line of attack, can be a positive trait in a communications strategist, but the flip side is often failing to switch gears and react to developments or allow voices of dissent to be heard.