By Thursday afternoon, Bryce Harper could have the first of what many expect to be several All-Star Game honors, but it would come at a price. Earning the vote his team certainly would market incessantly for the next three days would give him a ticket to join three teammates in Kansas City and put Harper in an uncomfortable position. He knows it.
"I'm not going to say I'm not deserving of it," Harper said Sunday, before he paused to contemplate where he'd go with that statement.
On the same Final Vote ballot with the Washington Nationals' 19-year-old phenom is a 40-year-old one. A fellow No. 1 overall pick in the MLB draft, albeit two years before Harper was born. A surefire future Hall of Famer who also happens to be retiring after the season.
Harper already had deferred to Chipper Jones several times over the course of the interview, even opening it by saying that he would vote for Jones if he had to choose.
Harper wants to be an All-Star. He allowed himself to think about the possibility a few weeks ago, before his numbers slipped, but he's also studied and respects the history of the game.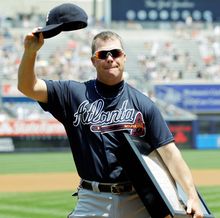 He knows where Jones ranks, what he's accomplished and how he should be celebrated in his final season. He's also acutely aware that his numbers no longer present the overwhelming case they did before a 15-game stretch where he's hit .203.
"But I don't think … I don't know," Harper said before breaking into laughter, simply unable to find more words to explain what he'd already said — that his desire to be at the game couldn't outweigh what he knows is right for Jones. "I have no clue. I really don't know what to say right now. Chip should be there. There you go."
"He should have already been in the All-Star Game no matter what," Harper added. "He's an All-Star and has been an All-Star for 20 years. I think Chip should be there and, like I said before, if I had to vote, Chip's going."
Those words were relayed to Jones, who told MLB.com Monday he texted Harper to thank him for the comments: "That's a very classy thing for a 19-year-old kid to say."
There are three other competitors, of course. Atlanta's Michael Bourn joins his teammate on the ballot, as does St. Louis third baseman and World Series MVP David Freese and Arizona second baseman (and the guy who's hit for not one but two cycles this season) Aaron Hill. And with the Nationals having their fourth straight entrant into the Final Vote contest (Cristian Guzman, Ryan Zimmerman and Michael Morse the past three years) they know what it's like not to see their player earn the fans' decision.
But this year is different, and most expect this to be a two-horse race. Two players on opposite ends of their careers battling for a spot in a game that would mean vastly different things to both.
For Harper, selection to the game would put him an elite and intriguing group. Only 18 players (including the Angels' Mike Trout, who was named to the AL team) have played in an All-Star Game before their 21st birthday. Harper, of course, won't turn 21 until after the 2013 season. Other 19-year-olds in the group: Bob Feller and Dwight Gooden. The 20-year-old section holds names such as Mickey Mantle, Frank Robinson, Al Kaline, Johnny Bench, Ken Griffey Jr., Ivan Rodriguez and Alex Rodriguez.
Drafted at 19, Jones knows what it's like to be the type of touted prospect that Harper was. And he knows what it's like to live up to that hype, already having seven All-Star nods, two Silver Slugger trophies and one National League Most Valuable Player award.
But even he never made an All-Star team until he was 24. And during his rookie season, at age 23, Jones was hitting .248 with a .360 on-base percentage and .453 slugging percentage at the break.
"Nineteen years old," said All-Star lefty Gio Gonzalez, when asked what the case would be for Harper to win the spot. "That says it all."