A fundraising burst provided at least a temporary reprieve for the Maryland men's outdoor track and field team. Seven other programs weren't so fortunate.
The school finalized the cuts of seven teams Monday, less than eight months after Maryland announced it would drop sports as part of an attempt to stabilize the athletic department's finances.
The discontinued sports are acrobatics and tumbling (formerly competitive cheer) men's cross country; men's and women's swimming; men's tennis; men's indoor track and field; and women's water polo.
"People ask me what keeps me up at night, and this is what keeps me up at night," athletic director Kevin Anderson said Monday. "I didn't come to Maryland to cut sports. … It's a sad day. It's a hard thing to deal with."
The cuts leave Maryland with 20 varsity sports.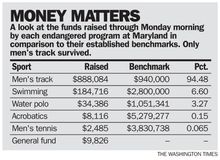 The outdoor track team, which will field a roster of only 14 athletes, raised $888,084. That was shy of the school's established benchmark of $940,000, but the program still was granted a reprieve to continue through at least the 2012-13 school year.
The program needs $1.88 million by year's end to exist through the spring of 2014 and $3.76 million by Dec. 31, 2013, to ensure its long-term health.
Still, it survived this cut, providing hope to coach Andrew Valmon that someday the program will add cross country and an indoor season again.
"That is the goal and always been the goal," said Valmon, who also is the U.S. Olympic track coach for the London Games this summer. "It's difficult to bring it back if you have nothing. When you have something, you have something [to build on]."
The athletic department exhausted its reserve funds last year, while the department's fundraising declined almost 40 percent between 2008 and 2011. There were bleak projections of the future as well, with total deficits expected to reach nearly $8.7 million by 2013 and $17.2 million by 2017 if no programs were dropped.
School officials said all scholarships and coaching contracts tied to the affected sports will be honored, commitments that will limit the savings Maryland receives from the eliminated sports for a few years. The cuts affect about 75 returning athletes, deputy director of athletics Nate Pine said, though that total could decrease as several attempt to transfer and continue their careers elsewhere.
Anderson said it was clear in mid-May none of the other endangered programs would reach their fundraising benchmarks. Track was helped in part by a $175,000 donation from the M Club, the school's letterwinners club. The M Club initially committed $1 million to help save sports at the school.
"It was going to be divided between eight teams or what teams had the best chance to survive," Anderson said. "With it only being outdoor track, we will continue to sit down and talk to the M Club and see if they will make a bigger contribution."
Nonetheless, there is optimism the program can continue beyond next season. One welcome development: Men's track athletes will be permitted to enter indoor meets as unattached competitors.
Maryland has a storied history in men's track, winning every annual ACC competition between the 1956 indoor meet and the 1980 indoor meet. However, scholarship cuts eventually relegated the program to the bottom half of the conference; the Terps haven't finished better than seventh in the ACC since the 1990 outdoor meet.