Katie Holmes has decided what her first major acting project will be since announcing her divorce from Tom Cruise: Broadway.
The actress will star in Theresa Rebeck's "Dead Accounts," a five-character comedy that will be directed by three-time Tony Award winner Jack O'Brien, producers said Thursday.
All eyes were on Ms. Holmes' next step as a single woman. Was it to be a big film or a small one? Or more TV? Her decision to return to the physically strenuous eight-show-a-week life of a Broadway stage actress indicates a willingness to jump into the deep end.
Her last appearance on Broadway, which also marked her debut, was in the 2008 production of "All My Sons." The news that she will return to a Times Square stage is also a signal that she may intend to stay in New York City.
Ms. Holmes first came to stardom in the teen soap opera "Dawson's Creek," and had roles in such well-regarded films as "The Ice Storm," "Go" and "Wonder Boys."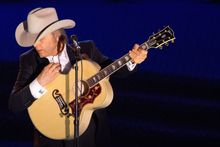 Reviews for her work in Arthur Miller's classic 1947 "All My Sons" were mixed, with the Associated Press saying Ms. Holmes "has a striking physical presence, although not much vocal variety" and USA Today saying that "at best, she exhibits a girlish exuberance that could serve her well in certain stage roles."
Ms. Rebeck's new play, which had its world premiere at the Cincinnati Playhouse this winter, will open on Broadway this fall at the Music Box Theatre. Dates and other casting news will be announced later.
"Dead Accounts" centers on a son who returns to his family's home in Cincinnati flush with money, which raises red flags for his sister, who is living with their elderly parents. Ms. Holmes will play the sister, a not-very-glamorous part for a woman who lately has landed on the cover of every tabloid.
Producers in a statement said the comedy "tackles the timely issues of corporate greed, small town values and whether or not your family will always welcome you back."
Blue Man Group show in Vegas ends, another begins
A new version of the popular Blue Man Group show is opening on the Las Vegas Strip this fall as another one ends its run at the Venetian.
Blue Man Group co-founder Chris Wink said the new production set to open Oct. 10 in the Monte Carlo Resort aims to take risks and "do something different."
Show officials say a parade of drummers, musicians, robots and puppets will make its way through the casino each day, 45 minutes before the first show. Other new elements include an assembly-line robot, new instruments and a virtual exploration of the human brain.
Tickets start at $59 and run to $215 for a VIP backstage experience.
Show officials say the last Blue Man Group show at the Venetian resort is set for Sept. 30.