Michael Phelps wasn't even supposed to swim in this event. After winning eight gold medals at the 2008 Olympics, Phelps said he was forever dropping the grueling 400-meter individual medley from his program. But four years later, he stood at the base of the starting block at the 2012 Olympic Trials in Omaha, Neb., preparing to take it on again.
To his immediate right stood Ryan Lochte, the up-and-comer who has been Phelps' biggest threat since they left Beijing.
Separately, they represent one-half of the biggest rivalry in swimming, possibly the entire 2012 Olympic Games. Together, they are the future of the sport to which they've devoted their youth.
With his Florida Gator-blue capped head lowered as he shook out his pre-event jitters, Lochte paid no mind to the banners displaying his name in the stands directly behind him or to the posters heralding his face.
Right next to him, Phelps' ears were still swallowed up by enormous red headphones. He didn't hear the PA announcer call out his name or the cheers from the raucous crowd of 13,000 strong.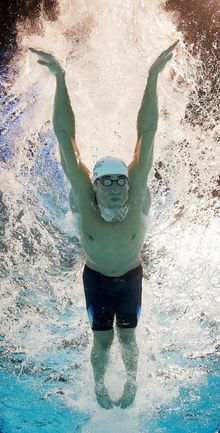 Not more than five minutes later, the race would be finished, the first spot on the U.S. Olympic swim team won. But the race — and their relationship — always had been about more than just winning.
"[I think it is] probably going to be one of the biggest rivalries ever," Lochte told reporters two days earlier. "I honestly think we could change the sport."
They dove in.
One more chance
Fifteen-year-old Michael Phelps was the youngest swimmer on the 2000 U.S. Olympic team by almost two years. The naive teenager, who even forgot to tie his suit before an event, failed to medal in his first international trip. But as his coach Bob Bowman put it, they were just happy to be there.
That Phelps is a long-faded memory.
Now 27, he announced shortly upon returning from Beijing that he will retire once this year's Olympic Games are over. Phelps will put to rest a career that has earned him 16 Olympic medals, six current world records and international fame.
Expectations are high for Phelps after Beijing. His are even loftier. And though he declines to specify them, Phelps still has dreams he wants to realize.
"There comes an end to everything, and for me and my career, I never want to look back and say, 'What if I did this one way and that one way?'" Phelps said. "I want to do everything I ever wanted to do before I retire.
"Two years after Beijing it was pretty clear that I wasn't doing everything that I could do."