Barry Cofield wasn't satisfied. With coaches around the NFL telling Washington Redskins assistants he could be one of the best nose tackles in the business, Cofield offered a less flattering evaluation.
"Honestly, I go back and review myself last year, and I've played a lot better than that," he said. "Last year, I think had two, three sacks. That's not far off for a nose tackle, but I feel like with the skill set I have I can improve. And I want to get a couple more."
A couple more and maybe some more meaningful ones will lead Cofield to do his "taser" sack dance celebration, which he eschewed during his first season with the Redskins. Switching to nose tackle in a 3-4 defense was admittedly a learning process even for the established veteran.
In his second season in defensive coordinator Jim Haslett's system, Cofield expects significant growth as he becomes more comfortable.
"Realistically, it's not going to be a ton of big plays. That's just not what the position entails. … But I just feel like I can do it better," Cofield said. "I feel like I can make a few more big plays. I feel like I can be in the quarterback's face. We're doing some things differently up front that is hopefully going to get the nose tackle some one-on-ones to be able to push the pocket and harass quarterbacks and even get some sacks."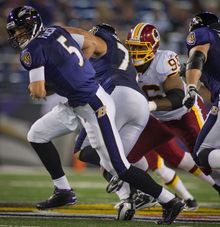 In Year 1, Cofield had 25 tackles to go with three sacks. Used to being able to rush from the edge with the New York Giants and build some momentum, the 28-year-old often found himself doubled in the middle of the line.
"It's a little bit more running sideways, stuff like that, keeping the linemen off the linebackers, realizing that you're probably not going to be making a ton of plays," middle linebacker London Fletcher said. "So as a guy you kind of have to change your thought process, but I thought he did great with it."
Cofield did great for Fletcher. The big nose tackle's presence helped Fletcher lead the league with 166 tackles and make the Pro Bowl.
Helping his teammate get to Hawaii was what Cofield was proudest of his first season in Washington. "He obviously appreciated the work I did up front," Cofield said.
It's not just Fletcher who appreciates what Cofield brings, even when he's not putting up impressive numbers.
"Barry did a lot of great things for us last year. It's not something a lot of fans would really notice because the stats aren't going to really always come to a nose tackle," outside linebacker Ryan Kerrigan said. "But the way he plays his position and how easy he makes the job for London and Perry [Riley] is huge."
Cofield's not small, but as a nose tackle he's far from huge. A year ago, he was unsure of his role with the Redskins so he didn't know exactly how to train and prepare. He just wanted to get in shape.
Now he's at 318 pounds and though that's smaller than a lot of players at his position, Cofield gets the job done.
"It's really just about technique, pad level and just work in the weight room," Cofield said. "Knowing what I was expected to do, knowing what kind of blocking schemes I'm going to see, I was able to take a different approach this offseason, really train my core and my leg strength and things that you might not even associate with a nose tackle. You think of a gut, but you don't realize that you can have a gut but you can have a strong core up under that stomach."
That's just one adjustment for Cofield, who has an uncanny ability of changing on the fly as he sees how offensive lines try to block him. Sometimes it's a midgame adjustment, and it's noticeable.