Josh Wolff still is adjusting to his career's current duality. The part of a player-coach, he's come to learn, isn't one easily grasped. It takes time, awareness and an open mind.
Since D.C. United boss Ben Olsen appointed Wolff to the club's staff as an assistant in March, the 35-year-old forward has dealt with a tricky proposition, embracing the potential of a coaching career while acknowledging the mortality of his playing days.
But it's a responsibility Wolff has tackled with the same professionalism that has defined a 15-year career highlighted by 80 goals in 265 MLS games and two trips to the World Cup with the U.S. national team.
"It's been pretty seamless," Olsen said. "There are always uncomfortable moments when you're a player-coach … but he's done a great job with it. It's important to have a guy in that role who has the respect of the players and the coaching staff. He has that, and rightfully so."
The extent to which Wolff serves as a coach is a fluid situation. On the practice field, he spars the same way he has for the past decade and a half, even if some of his teammates are nearly half his age.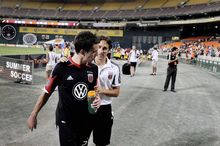 Behind closed doors, though, the Georgia native noted he's there to provide "another set of eyes, another set of ears" in the coaches' room occupied by Olsen and assistants Chad Ashton and Pat Onstad, particularly when it comes to watching film and probing opposing teams for weaknesses.
"As far as a player and coach, it's two different worlds for sure," Wolff said. "The complex part of course is when you are involved in the playing and how much input you can give in certain areas because you're still competing for spots. It hasn't always been easy, but as it's gone on, I've certainly gotten better with it."
Added midfielder Perry Kitchen: "The guys in the locker room, we don't feel like anything has really changed. He's always a guy that's going to try to help and instruct guys on the field when he's playing and when he's off the field. He's one of the smartest guys as a player that I've ever spoken to. He always knows how to solve different situations."
Long regarded as a natural leader and mentor, Wolff said he began mulling coaching in 2008, when he returned to Kansas City in MLS after a brief but eye-opening stint with German side 1860 Munich.
There, he was teammates with fellow U.S. international Gregg Berhalter, a defender who served as a player-assistant coach for the Los Angeles Galaxy last season before being named head coach of well-regarded Swedish club Hammarby IF this past winter.
As Wolff sees it, it's no coincidence he and Berhalter have found early success breaking into the coaching ranks.
"Going there was just very insightful," Wolff said. "It was very thought-provoking in that you're going to a new culture and it's such a tactic-oriented place, something that I think we miss in our growth as players. We don't have that tactical awareness, and it's such an emphasis there."
It's a strategic prowess Olsen, Wolff's teammate at the 2000 Olympics in Sydney and the 2006 World Cup in Germany, has leaned on in more ways than one. Although Wolff has made his name as a withdrawn forward, Olsen has trusted the player's on-the-field savvy enough to play him out of position on multiple occasions this season, using him both as a central and wide midfielder.
"He's a very, very bright guy when it comes to this game," Olsen said. "I have not been around too many guys who can X and O tactically the game like he can. He's very sharp, he understands the players' mentalities and he understands how to be a winner."
Despite those attributes, this campaign has seen Wolff cope with a greatly reduced role for a first-place United team (10-5-3) that added prolific strikers Maicon Santos and Hamdi Salihi during the offseason.