Don't spend it all in one place, Paul.
London Olympic organizers say former Beatle Paul McCartney and other star performers who took part in Friday's opening ceremony essentially donated their time — receiving a mere $1.57 for their performances.
The nominal fee was offered to make the Olympics contracts binding — but pales in comparison to the millions big names such as Mr. McCartney can command for a stadium gig.
Other performers such as Mike Oldfield, Dizzee Rascal and Emeli Sande are also thought to have received the nominal fee, according to the Associated Press.
Director Danny Boyle's "Isles of Wonder" extravaganza featured British music that spanned generations, right up to live performances from two of the hottest homegrown acts of the moment: grime star Dizzee Rascal and the band Arctic Monkeys.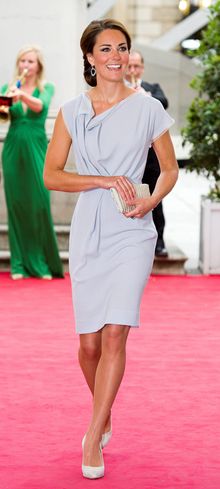 Duchess dazzles at star-studded London arts event
Art was the subject, but the Duchess of Cambridge was the star.
Prince William's wife dazzled onlookers Monday as she met Prime Minister David Cameron and dozens of British artists on the fringe of the London Olympics.
Trumpeters heralded her arrival on the Royal Academy of Arts red carpet to mingle with 800 people from the British music, film, arts and entertainment industries.
The duchess tied her long hair back and wore a dove gray dress by Serbian designer Roksanda Ilincic.
Other guests included fashion designer Stella McCartney, film director Terry Gilliam, model Lily Cole, and singers Katy B and Roger Daltrey.
Earlier Monday, William and Kate watched his cousin Zara Phillips race in the Olympic horse competition. The royal couple plan to attend more than 30 Olympic events.
Madonna blames 'thugs' for Paris concert backlash
Madonna has blamed a handful of "thugs" for a rowdy outbreak that marred the end of a concert in Paris last week when the star bowed out after barely 45 minutes onstage.
Videos on YouTube showed concert-goers shouting "refund," while the diva came under fire on Twitter from angry fans, some of whom paid more than $300 and queued through the night for Thursday's event.