ANNAPOLIS — Travis Bridges sat in an offensive line meeting in March, unaware that the latest unforeseen twist in his young life was about to unfold.
In comparison with so much that had come before, it did not carry that much meaning. At least in time, it would not. It was still an eye-opener to a man who had settled in after bumpy times during his first two years at the Naval Academy.
Coach Ken Niumatalolo called Bridges, who was poised to contend for playing time at guard, into his office to inform the rising junior that he would switch to defense.
"He was sitting in my office like, 'What is going on?'" offensive line coach Chris Culton said. "Travis didn't see the big picture, not because he couldn't see the big picture but because he thought it was a strike against him or he couldn't get it done on offense."
It had nothing to do with that, and Culton said so. The Midshipmen rarely find a player with both the size and athleticism to so capably plug into the middle of their defensive line. A Navy lineman typically will go from defense to offense; a trip in the other direction usually involves a special talent.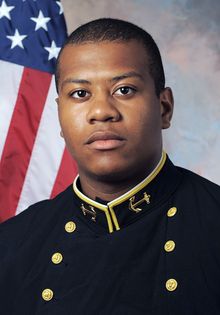 Besides, Culton and the rest of the Mids' staff knew that if anyone would ultimately handle a change with grace and tenacity, it would be Bridges. Who else in Navy's locker room lost his mother to a brain tumor when he was 3? Or lived in vacant homes as a child during his family's trying economic times?
Bridges assumed resilience. When Culton asked defensive line coach Dale Pehrson about the switch a week later, his fellow assistant replied that Bridges was in his office nearly every day with a pad and paper to soak in as much as he could.
"I think that's something my dad instilled in me," Bridges said. "Don't look at the bad things or what's going on. Just keep your mind on the road and keep in mind what's going on out there doesn't always have to be like this. It helped me keep a good head on my shoulders, and I feel I was blessed enough to pick that up at a young age."
It's why he thrived in high school. It helped him turn in such a strong spring that Navy is counting on Bridges to make an impact at nose guard when preseason camp begins Wednesday.
It also helped him survive his first two years at Navy, where a 6-foot, 318-pounder stands out whether he wants to or not.
"There's no doubt in my mind that a kid 300 pounds has it harder here than anybody else," Niumatalolo said. "I know there's ribbing and razzing that goes on because you can't get in line and nobody notices you. They're going to see you. There's no way you can hide. For him to have dealt with that, you have to be a tough kid."
Questions to answer
Pride, Travis Bridges Sr. believes, can work for or against a man.
It could have worked against him while raising his son. Mr. Bridges, a musician, wouldn't allow it, even as a real estate friend allowed them to stay in unoccupied homes when work was scarce.
"Although I had to go without, he couldn't go without," Mr. Bridges said. "Being a self-taught barber, I kept his hair cut neat. I got him [good] hand-me-down clothes. I was able to keep him looking well."