The weekly television ratings competition was no competition with the start of the Summer Olympics in London.
Friday's opening ceremony drew more than 40 million viewers for NBC, numbers that were about the same as for the Grammy and Academy awards ceremonies this year, and far more than anything else on U.S. television this summer, Nielsen said.
The first two nights of competition that followed had NBC getting bigger audiences than they had in the Beijing Olympics four years ago, Nielsen said.
For the week, NBC averaged 19 million viewers in prime time (10.4 rating, 18 share). CBS was a distant second, averaging 4.6 million (3.0, 5), Fox had 3.6 million (2.1, 4), and ABC had 3.5 million.
Among the Spanish-language networks, Univision led with 3.4 million viewers (1.8, 3), followed by Telemundo with 1.4 million (0.8, 1).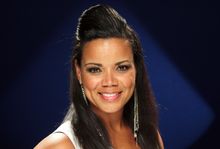 NBC's "Nightly News" topped the evening newscasts with an average of 8.5 million viewers (5.7, 12). ABC's "World News" was second with 7.2 million (4.9, 10), and the "CBS Evening News" had 6 million viewers (4.1, 8).
A ratings point represents 1,147,000 households, or 1 percent of the nation's estimated 114.7 million TV homes. The share is the percentage of in-use televisions tuned to a given show.
For the week of July 23 to 29, the top 10 shows, their networks and viewerships: "Summer Olympics Opening Ceremony," NBC, 40.65 million; "Summer Olympics" (Sunday), NBC, 36.05 million; "Summer Olympics" (Saturday), NBC, 28.72 million; "America's Got Talent" (Tuesday), NBC, 10.43 million; "America's Got Talent" (Wednesday), NBC, 8.76 million; "The Big Bang Theory," CBS, 7.88 million; "NCIS," CBS, 7.22 million; "Wipeout" (Thursday), ABC, 6.85 million; "Two and a Half Men" (Thursday), CBS, 6.64 million; "Hell's Kitchen" (Monday), Fox, 6.46 million.
Rihanna, Drake score 5 Video Music Award nods
The MTV Video Music Award nominations are out, and Rihanna and Drake are leading the pack with five nominations each.
Last year's big winner Katy Perry isn't far behind with four nominations.
Rihanna has two chances to win for video of the year; she's nominated both for her hit "We Found Love" and for her duet with Drake on "Take Care." Others in the category include Katy Perry for "Wide Awake"; Gotye for "Somebody That I Used To Know"; and M.I.A. for "Bad Girls."
The show will air live from Los Angeles on Sept. 6, and will feature performances from four-time VMA winner Alicia Keys and One Direction, up for best pop video for their hit "What Makes You Beautiful."
Former 'Idol' Kimberley Locke wants judge's chair
Kimberley Locke wants to fill that vacant judge's chair on "American Idol." The season 2 finalist feels having a former contestant on the show can bring renewed interest to the popular TV singing competition.