Hong Kong action star Jackie Chan is going to Myanmar this week on a three-day mission to help combat child trafficking in the Southeast Asian nation.
UNICEF announced Tuesday that in his capacity as a good-will ambassador, Mr. Chan will visit the agency's projects for supporting trafficked children under special care for trauma and distress. He also will meet with officials of the Social Welfare Ministry and members of the Myanmar Police Anti-Trafficking Task Force in Mandalay, Myanmar's second-largest city.
The U.S. State Department's annual report on human trafficking said thousands of children in Myanmar are forced to serve in the national army and ethnic military groups. Myanmar signed an agreement with the United Nations last week to ban the recruitment of child soldiers and demobilize those already serving.
Kiss takes giant book to London for launch
American glam rockers Kiss are unleashing their "Monster" on the U.K. public.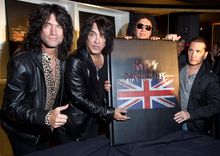 The band — Gene Simmons, Paul Stanley, Tommy Thayer and Eric Singer — was in London on Tuesday to launch its new retrospective book, "Kiss Monster," and to hold a news conference.
The limited-edition book — which is 3 feet highl — features unseen photographs from the band's 40-year career.
"A band that is bigger than life deserves a book that's bigger than life. You could call it a coffee-table book, but if you put legs on it, it is a coffee table," Mr. Stanley joked.
Only 1,000 copies of "Kiss Monster" will be produced and each one will be signed by the band. It will retail at a staggering $4,299.
"It's not a cheap book because it is hand bound, hand put together. It's the Rolls-Royce of books," Mr. Simmons said.
"KISS Monster" is now on sale via the band's website.
Opera star Evelyn Lear dies at age 86
American soprano Evelyn Lear, who became an opera star in Europe while singing some of the most difficult contemporary operas before returning to the U.S., has died. She was 86.
Longtime friend and collaborator John Edward Niles said Ms. Lear died Sunday at a nursing home in Sandy Spring. He said she had been ailing for months after suffering a mild stroke.
Ms. Lear and her now late husband, Thomas Stewart, the acclaimed bass-baritone, settled in Montgomery County after singing together for decades around the world. They wanted to be closer to their grandchildren.