After winning an Academy Award and a Grammy, Jennifer Hudson is taking a roundabout route to giving theater a try.
She'll appear on the second season of the television musical drama series "Smash" in a multiepisode arc as a Broadway star named Veronica Moore.
On "Smash," Ms. Hudson will join fellow "American Idol" alum Katharine McPhee, who's one of the show's main characters.
"It's just the perfect opportunity," Ms. Hudson, a fan of the NBC show, said in a recent Associated Press interview. "It's gonna be challenging, and I'm a little bit intimidated to play this big Broadway star. But it's gonna be a great experience. I can't wait to get started."
She also admitted the show may be a way for her to ease into an appearance on Broadway.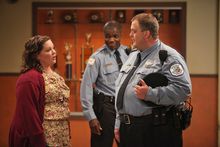 Fans will have to wait awhile to see her on "Smash," though. The series doesn't return to television until early next year.
FX gets syndication rights to CBS' 'Mike & Molly'
Warner Bros. Television has firmed up its early sale of off-network syndication rights to "Mike & Molly."
FX announced Tuesday that it will host exclusive syndication of the Mark Roberts-created sitcom starting in September 2014.
"Mike & Molly," which stars Billy Gardell and Melissa McCarthy and was the most-watched new series of the 2010-11 season, joins fellow CBS comedies "How I Met Your Mother" and "Two and a Half Men" in FX's syndication portfolio.
Baldwin donates $1M to New York Philharmonic
Just days after tying the knot with his yoga instructor, Alec Baldwin donated $1 million to the New York Philharmonic.
The gift is in honor of outgoing President and Executive Director Zarin Mehta.
The "30 Rock" actor is a Philharmonic board member and hosts its radio show, "The New York Philharmonic This Week."
He said in a statement Monday that Mr. Mehta made his dream of becoming part of the world of classical music come true.