The Great Recession sent millions of Americans scurrying back to school to improve their chances of securing jobs. But the difficulty that recent college graduates have had finding work — after taking on unprecedented loads of debt — has sparked a lively debate about whether a college degree opens doors the way it once did in the job market.
Enrollment in college and other postsecondary schools surged at double-digit rates during and after the recession as young people and middle-aged workers alike sought to hone their skills and burnish their resumes in hopes of finding better-paying jobs or, in some instances, any job.
The surge in enrollments sent student debt soaring to near $1 trillion, making it the fastest-growing and largest category of consumer debt in the U.S. economy.
But the payoff has been less than impressive: Recent college graduates are having as hard a time getting work as many non-graduates, while they are burdened with debts of as much as $100,000 for obtaining their degrees.
The estimated 8.5 percent unemployment rate for recent graduates is more than twice the 3.9 percent rate for older college graduates and higher than the 8.1 percent rate for Americans with only high school degrees.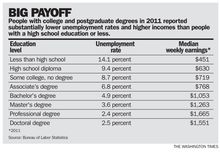 Many graduates have been forced to take temporary or part-time jobs — or even work without pay — while staying with their parents and postponing marriage, buying a house and pursuing other life goals. Since the recession, the earnings of recent graduates have fallen by about 5 percent, reflecting their diminished prospects.
Adding to this predicament, at least 40 percent of graduates took out loans to get their degrees, but have little wherewithal to repay them amid the dearth of well-paying jobs. The growing strain is prompting students and their parents, many of whom co-signed for the loans, to reconsider whether college is either affordable or worthwhile.
While middle-class families are quietly voicing their doubts, some prominent and influential skeptics are loudly questioning the importance Americans have traditionally placed on getting college educations.
Peter Thiel, an entrepreneur who dropped out of Stanford University and made billions of dollars as co-founder of PayPal, said most people don't need a college degree to be successful in business or the job market, unless they are going into medicine, academia or other areas where higher education clearly is needed.
To prove his point, Mr. Thiel set up a foundation that offers to pay a couple of dozen of the nation's most talented students each year $100,000 to drop out of college and become technology entrepreneurs. He believes the young turks and society at large will be better off with fewer people earning bachelor's degrees.
Education bubble?
"We have a bubble in education like we had a bubble in housing in the last decade," the Silicon Valley mogul told CBS' "60 Minutes" last month. "Everybody believed you had to have a house. They'd pay whatever it took. Today, everybody believes that we need to go to college, and people will pay whatever it takes."
Mr. Thiel said college has been oversold as a ticket to a good job. He noted that an average plumber with no college degree makes about as much as the average doctor who has attended many years of college and medical school.
Moreover, the most talented young people who attend Harvard or other Ivy League schools often get funneled into careers on Wall Street, where the pay may be lucrative but the work benefits primarily the wealthy and is not that productive for the larger economy and society, he said.
At the other end of the spectrum, for-profit colleges, which tend to attract less-accomplished students, have become like "subprime mortgage lenders," he said, adding that applicants are persuaded to go deeply into debt to get degrees of sometimes questionable market value.