Think of him as Grandfather Time.
David Lindow is one of the last manufacturers in the country of grandfather clocks.
As he practices a venerable craft dating back to the 17th century, the clock may be ticking on yet another American industry battling competition from foreign rivals and technological innovation that has put market pressure even on the wristwatch.
"We're already just about on life-support," said Mr. Lindow, 42, who hopes to eventually teach his son the craft known as horology. "There's one place left doing it. I could get hit by a bus or wreck my bicycle. Right now, there isn't anyone else who could take over. There's no one to take my place."
Mr. Lindow has been building his clocks from the basement of his barn in Lake Ariel, Pa., for more than two decades. He fell in love with the business shortly after college.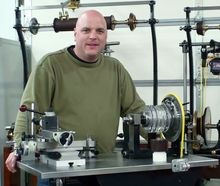 There's more to a clock than time, he swears.
"The mechanical sound that comes out of it is a very soothing thing," he explained. "You hear the clock tick and tock, and it's marking out the time with rhythm and pace. A clock says something to you, it's telling you something."
Grandfather clocks typically stand seven to eight feet tall, and weigh about 125 pounds. They strike on the hour, and newer ones also chime every 15 minutes.
Clockmakers are quick to point out that, strictly speaking, there is no such thing as a "grandfather clock." The proper name for these precious time-keepers is a "tall" or "longcase" clock.
They got their popular nickname from the well-known children's song in the 1870s, Mr. Lindow said, and these days, the tall, stately timepieces tend to be passed down as family heirlooms.
"If it has been passed down two generations, it is, of course, your grandfather's clock," said Donny Sobel, who sells Mr. Lindow's products at the Clock Shop in Vienna.
Historically, there are four steps to building a grandfather clock.
First, Mr. Lindow will construct the movement — the mechanical portion inside the clock that makes it tick and keep time accurately. Then, he cuts the dial portion of the clock that tells time, and sends it out to a painter, who designs the numbers and other artwork.
At the same time, he cuts the hands, which connect to the dial and point to the time.
Once these parts are complete, a cabinet maker assembles them into the grandfather clock case and they are delivered to the buyer.