A judge on Friday banned a 30-year-old woman from going near Simon Cowell after she admitted smashing a window of the entertainment mogul's house with a brick.
Leanne Zaloumis was arrested March 24 at Mr. Cowell's west London mansion.
Prosecutors say Mr. Cowell was watching TV in his bedroom when he heard a loud bang coming from his bathroom and discovered the woman inside a wardrobe with a brick.
At a court hearing Friday, Zaloumis admitted possessing a brick with intent to damage or destroy property, but denied burglary.
Prosecutors accepted her plea, meaning she will not face trial.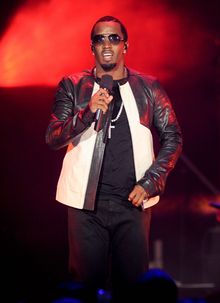 Judge John Denniss said the 102 days Zaloumis has spent in jail were sufficient punishment, but warned she would go to prison if she breached her bail conditions, which forbid her from contacting Mr. Cowell or going within 300 yards of his home. She also has to wear an electronic tag and observe an overnight curfew.
Mr. Cowell's spokesman, Max Clifford, said Mr. Cowell was "glad that the judge was understanding and sympathetic, and hopes that [Zaloumis] gets some help and support."
Rihanna sues accountants for millions in losses
Rihanna sued her former accountants Thursday, blaming them for tens of millions of dollars in losses, shoddy bookkeeping, a failure to recommend she trim expenses when a 2009 tour was losing money and an ongoing audit by the Internal Revenue Service.
The lawsuit in federal court in Manhattan sought unspecified damages against New York-based Berdon LLP and two accountants. A Berdon spokeswoman said the company had no immediate comment.
The singer, suing under her real name, Robyn Fenty, alleged through her attorneys that the defendants drained tens of millions of dollars from revenues while she launched four national and international tours over a five-year period.
By the "Last Girl on Earth" tour in 2009, Rihanna learned that the tour had managed "significant net losses" despite robust revenues, though the defendants had pocketed 22 percent of the tour's total revenues while paying Rihanna just 6 percent of revenues, the lawsuit said. It said Berdon's unusual accounting practice of paying itself a percentage of gross tour income as commissions left it no incentive to "counsel" Rihanna to reduce expenses or put in place appropriate financial controls.
The lawsuit alleged the practice of paying itself commissions on revenues was not standard in the accounting and business management industry and created a clear conflict of interest.
Since firing the firm and its accountants in September 2010, Rihanna's fortunes already have reversed, the lawsuit said. The "Loud" tour stretching from June 2011 to December 2011 produced a net profit equal to more than 40 percent of total tour revenues, it added.
Singer Susan Boyle awarded honorary doctorate in Scotland