Mitt Romney continues to hold a whisker-thin 1-percentage-point lead over President Obama in a head-to-head election match-up, but the former Massachusetts governor is eating into the president's air of inevitability, according to the latest The Washington Times/JZ Analytics poll released Monday night.
The poll found Mr. Romney leading 43 percent to 42 percent — about the same margin as the poll in May, but Mr. Obama slipped on several key measures, including fewer voters who say they expect him to win, and fewer who say they are voting for him because he's the best candidate.
Voters, who by a small margin say they agree with the Supreme Court's ruling upholding health care, still seem in a mood to punish Mr. Obama for it — particularly among independents. The poll found 45 percent of self-identified independents said they are less likely to support the president now after the ruling, compared with 20 percent who said the ruling made them more likely to back him.
John Zogby, the pollster who conducted the survey, said Mr. Obama had been ticking upward in other polling last month, but the health care ruling appears to have arrested that momentum.
"What happened was he was leading on the basis of doing better among independents. But this time around, there's a shift — still a lot of independents who are undecided, but Romney has the plurality now," Mr. Zogby said. "The health care issue, at least at the moment, is tipping away from Obama among independents, and has caused other independents to kind of park themselves in the undecided parking lot."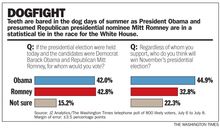 The nationwide survey of 800 likely voters was conducted Friday through Sunday, and the findings are in line with other major polls showing a tight race.
In the previous TWT-JZ Analytics Poll, taken in mid-May, Mr. Romney led by less than half a percentage point.
Adding Libertarian Party nominee Gary Johnson into the mix gives Mr. Obama the edge, 43 percent to 41 percent, over Mr. Romney. Mr. Johnson collects about 4 percent of the vote.
Pollsters say the expectations game plays a big role in predicting election winners. On that score Mr. Obama is doing better than Mr. Romney: 45 percent of voters said they expect the president to win re-election versus 33 percent who say Mr. Romney will win. But in both cases, those numbers are down from the May TWT/JZ Analytics Poll, while the number of those who aren't sure who will win has risen 8 percentage points, to reach nearly a quarter of all voters.
Democrats were more optimistic about Mr. Obama's chances than Republicans were optimistic about Mr. Romney's, the survey found.
Mr. Zogby said the expectations game is good news for Mr. Obama, and shows Mr. Romney still has some work to do in convincing his party faithful that he is up for the challenge. But he said Mr. Obama also should be worried that he is polling so low overall as an incumbent.
"An incumbent president polling 42 percent at this point in time is not good," he said.
Mr. Obama also has slipped in one measure of enthusiasm. In the May poll, 64 percent of the president's supporters said they were backing him because he was the "best candidate," but that slipped to 57 percent in this survey.
The number voting for him because they dislike Mr. Romney or find Mr. Obama the "lesser of two evils" grew 9 points.
Another piece of news for Mr. Romney came Monday, when the two campaigns announced some of their fundraising numbers. Mr. Romney and his Republican allies reported raising $35 million more in June than Mr. Obama and allied Democratic committees.