An auction of guitars and memorabilia owned by the late Les Paul, known as the godfather of the electric guitar, has raised nearly $5 million for a foundation in his name benefiting music education and innovation.
Julien's Auctions of Beverly Hills said Sunday that the two-day sale fetched record-setting prices for guitars. The items most coveted by rock musicians, museum curators and collectors included a 1951 Fender No-Caster, which sold for $216,000, a 1982 Gibson Les Paul that went for $180,000 and a 1940s Epiphone Zephyr that fetched $144,000.
Other Paul memorabilia included a recording console ($106,250), research notes ($28,125) and guitar schematics ($40,625).
Paul invented one of the world's most widely played guitars, the Gibson Les Paul. The sale concluded Saturday, on what would have been his 97th birthday. He died in 2009.
Aerosmith celebrates summer with tour, new album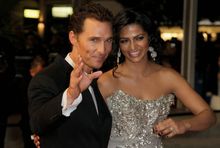 Aerosmith has flown with turbulence for most of the band's 40-year career, but as the group's summer tour begins this week, things seem to be absolutely blissful among its members.
"We've already gone through all our problems," Steven Tyler said in a recent Associated Press interview, laughing with Joe Perry.
Aerosmith definitely has had its share of feuds both public and private, most recently in 2009 when Mr. Perry lashed out at Mr. Tyler after the band's frontman fell off a stage during a concert tour and injured himself, forcing the band off the road. Mr. Perry questioned Mr. Tyler's dedication to Aerosmith and even floated the idea of a new lead singer, but they publicly made up.
"Joe and I were fighting for a while, that's no secret," Mr. Tyler said. "But whatever demons or realities were going on in the band, it happens with bands that stay together for 40 years and have the success that we have."
He added that any friction never affected their ability to put on a good show: "We're up there to play to the audience. It's never about us."
Mr. Perry agreed.
"It's only as good as those two hours onstage," the guitarist said of the band's chemistry. "The rest of it, I have no idea how it works. With Aerosmith, we put one foot in front of the other and hope for the best."
Aerosmith (which includes guitarist Brad Whitford, bassist Tom Hamilton and drummer Joey Kramer) starts their "Global Warming" tour with Cheap Trick on Saturday in Minneapolis. Then later this summer, they'll release their first studio album of all-new material since "Just Push Play" in 2001.
The upcoming album, "Music From Another Dimension," marks the first time in a decade that Mr. Perry and Mr. Tyler wrote music together. Mr. Tyler said despite the time it took to get back to basics, once they did, it was like a "fine wine."
Mr. Perry said the album was 10 years in the making with riffs he wrote back in 2002, and chord progressions from today. He said he feels they fit nicely in what he describes as "playing the old songs new and the new songs old" to keep the band lean and mean — part of Mr. Perry's commitment to keep Aerosmith from becoming a nostalgia act.