Niles Paul was just 8 months old when the Denver Broncos drafted little-known wide receiver Shannon Sharpe out of Savannah State. After three tight ends went down to injury, Sharpe stepped in and excelled at the position. He is now one of eight tight ends enshrined in the Hall of Fame.
Paul isn't ready to liken himself to a legend quite yet, and he doesn't have to. Since the 22-year-old receiver moved to tight end over the offseason, several Redskins players and coaches already have drawn that comparison.
"I hate to compare anybody to a Hall of Fame player going into his second year, but Shannon Sharpe came into Denver exactly the same height," Redskins coach Mike Shanahan told ESPN 980 last month. "We moved him over to the tight end position, and [he] had a pretty darn good career." Shanahan was an offensive assistant coach when Sharpe was in Denver.
The similarities are uncanny. Both were standout wide receivers in college. Sharpe went in the seventh round, Paul in the fifth. Sharpe is one inch taller than Paul. Paul weighs five pounds more than Sharpe. And, for what it's worth, both wear No. 84.
Sharpe visited organized team activities at Redskins Park early last week, giving Paul the opportunity to pick Sharpe's brain and discuss the intricacies of the position.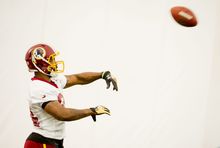 "He basically said this is one of two steps, and the next step is out the door," Paul explained. "He said, 'They're trying to find you a home and coach Shanahan believes in you enough to find you a home, you just have to make him right.' "
With Chris Cooley injured and Fred Davis suspended, Paul saw limited action as a backup tight end in the final three weeks of his rookie season. Shanahan liked what he saw and called Paul this offseason to ask him to make the switch.
At 6-foot-1 and 234 pounds, Paul's combination of strength and agility made him an ideal candidate for tight end. He runs the 40-yard-dash in 4.45 seconds and won two consecutive state high school championships in the 110-meter hurdles. Yet he also put up 24 reps at 225 pounds in the NFL combine, the second-most of any wide receiver prospect that year.
Shanahan sees Paul as a mismatch waiting to happen.
"Any time you've got a tight end that's in that 4.5 range [who] can run like a wide receiver, the key is can he block like a tight end?" Shanahan said. "A lot of those guys that can run, can catch and have that speed aren't very good blockers. I think he'll be able to do both."
Running routes is second nature for Paul, but lining up in a three-point stance and blocking still is relatively new. He is undersized for a tight end and will be tasked with slowing down NFC East pass-rushers such as Dallas linebacker DeMarcus Ware and New York defensive end Jason Pierre-Paul. Sharpe, who played at 228 pounds, can relate.
"He said, 'You got to understand that I'm a smaller guy, I'm not going to win every battle, but my role is to protect the running back and the QB,' " Paul said. "As long as I'm doing my job, then that's all that matters."
The Redskins have yet to practice in pads, but Shanahan likes what he sees out of Paul thus far. Cooley said he's been explosive and is quickly picking up the blocking schemes. Fellow tight end Logan Paulsen agreed.
"I wish I could say I helped him a lot and taught him everything he knows, but he's made like a seamless transition," Paulsen said. "A lot of receivers I don't think would be able to make that kind of transition, but he's done it without batting an eye."
Paul has a long way to go before he lives up to Shannon Sharpe. He caught only two passes for 25 yards last season and still is just trying to earn a spot on Washington's Week 1 roster. But he's grateful for the opportunity.