MOSCOW — Tens of thousands of Russians filled the streets of central Moscow on Tuesday to rally against the 12-year rule of President Vladimir Putin, braving torrential rain and the threat of vastly increased fines for protest-related offenses.
"We will win and win very soon," protest leader Sergei Udaltsov told a cheering crowd. "This year, we will free Russia."
At least 50,000 people held a peaceful march earlier through the capital's downtown boulevards chanting "Russia without Putin" and "Putin is a thief" as a police helicopter hovered above them.
No arrests were reported, and policing was notably lighter than at previous demonstrations.
Police said some 15,000 people attended the protest, a figure mocked by opposition leaders and independent media.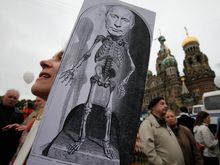 In a televised address during a Russia Day ceremony at the Kremlin, Mr. Putin, 59, indirectly jabbed at protesters, saying that "anything that weakens the country or divides society is unacceptable."
A national holiday, Russia Day commemorates the nation's declaration of independence from the Soviet Union in 1990.
New protest law
Tuesday's march was the first large-scale demonstration since Mr. Putin's inauguration in May, when he returned to the Kremlin as president for a six-year term after having won an election criticized by opposition leaders and international observers. Anti-Putin protests have proliferated since December, when disputed legislative elections kept his party in power.
Under legislation that was raced through parliament, protesters now can face fines of $9,000 — about the average annual Russian salary — for violations of "the established rules of conduct" at demonstrations. Those found guilty of damage to property at protests will face even larger fines.
The Kremlin's own human rights council has criticized the law.
Mr. Putin has said the law is necessary to "protect society from radicalism," and dismissed claims that it is too harsh.
"I want my children to live in a normal country, and for that to happen, Putin has to go," said protester Sergei Letov, 38. "But I want peaceful change. Russia has seen enough bloodletting down the years."
The rally was held a day after police raided the homes of protest leaders in connection with clashes between security forces and demonstrators in Moscow on the eve of Mr. Putin's May 7 inauguration.
Opposition figures likened the raids to the repression of Soviet dictator Josef Stalin.