MOGADISHU, SOMALIA — Mogadishu is losing a label it never wanted in the first place: World's Most Dangerous City.
The seaside Somali capital is enjoying a peace that, except for the infrequent attack, has lasted the better part of a year. Somalis who fled decades of war are coming back, as are U.N. workers who long operated out of Nairobi, the capital of neighboring Kenya.
Embassies are reopening and a U.S. assistant secretary of state visited here Sunday, the highest-ranking U.S. official to set foot in Mogadishu since the infamous Black Hawk Down battle of 1993.
Minneapolis resident Abdikhafar Abubakar fled Somalia in 1992, leaving behind his mother, three siblings and other family members. He planned to visit twice in previous years, but each time his mother warned it was too dangerous.
Last week, he finally returned to Mogadishu, where he saw his mother for the first time in two decades. This time she said it was safe, and she welcomed him home with tears of joy. He later walked the streets with his brother.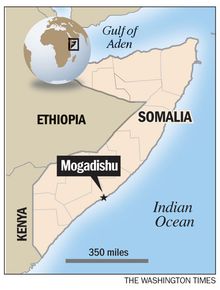 "One thing I could say about Mogadishu as the most dangerous city in the world: I've been here one week and I never felt any danger," Mr. Abubakar said. "When I was out walking around, I wasn't scared. There was nothing to be scared of."
He did hear gunshots in the distance, but even that didn't rattle him.
Longest period of peace
Mogadishu's designation as World's Most Dangerous City was unofficial, of course, but widely applied.
The U.N. and embassies pulled out in the 1990s following the collapse of the last fully functioning government in 1991. Al Qaeda-linked militants held sway over much of the city from 2007 until August, a four-year span when full-fledged war raged with African Union troops.
On Aug. 6, the African Union fighters pushed out al-Shabab, ending the daily grind of war. Last month, the African force took control of Afmadow, an al-Shabab stronghold on Mogadishu's outskirts the insurgents had used for staging the occasional bomb attack.
Armored personnel carriers driven by Ugandan and Burundian troops still rumble through the city. But with the fighting at bay, the military convoys feel more like heavy security than front-line forces.
"This is the longest period of sustained peace Mogadishu has seen in 20 years," said Lt. Col. Paddy Ankunda, spokesman for the African Union force.
Britain announced in February that it was naming an ambassador to Somalia, though he is mostly stationed in Nairobi.
Johnnie Carson, the U.S. assistant secretary of state for African affairs, visited Mogadishu on Sunday and noted that eight or nine countries - including Turkey, Libya, Yemen and Sudan - now have a diplomatic presence in Mogadishu, though the U.S. does not.