New York is poised to become the latest state to cash in on the nation's natural gas boom.
Gov. Andrew Cuomo, a Democrat, reportedly will lift a moratorium on fracking this summer, allowing the popular yet controversial gas-extraction technique to be used in the southern part of the state near the Pennsylvania border.
The decision, first reported by the New York Times on Wednesday citing sources within the Cuomo administration, comes on the heels of similar moves in other states.
North Carolina's House Environmental Committee on Wednesday passed legislation allowing fracking permits to be issued by 2014 once state agencies have crafted all necessary regulations. The state Senate passed the measure last week.
On Monday, Ohio Gov. John Kasich, a Republican, signed into law some rules to govern fracking - the use of water, sand and chemicals to crack underground rock and release huge quantities of fuel. Environmentalists said the law is too lenient, but Mr. Kasich called the safeguards, which include mandatory disclosure of fluids used in the process, "tough but fair" and said his state now boasts the strongest fracking guidelines in the nation.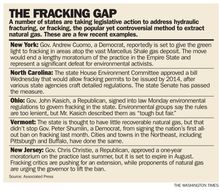 Some analysts expect the trend to continue, as a growing number of governors and lawmakers look at states such as Pennsylvania, where tens of thousands of jobs have been created and many areas have experienced economic revivals as a result of drilling.
"The action [in New York] speaks for itself. The opportunities from shale gas are so enormous that states are paying very close attention," said Raymond L. Orbach, former undersecretary for science at the federal Department of Energy. He now leads the Energy Institute at the University of Texas at Austin.
"From my perspective, this gives the United States energy security that we have not had before," he said. "My argument would be that it makes good sense for us to exploit that."
Not all states are on board.
Last month, Vermont became the first state in the nation to ban fracking. New Jersey Gov. Chris Christie, a Republican, imposed a one-year moratorium on the process in August, giving researchers more time to study its safety.
Unlike Pennsylvania, New York and other states, Vermont and New Jersey have virtually no recoverable shale gas. It's far easier, analysts say, for a state such as Vermont to ban fracking as a merely symbolic gesture since it won't lose out on any economic benefits as a result.
For Democrats such as Vermont Gov. Peter Shumlin, the decision to criminalize fracking and score points with the party's key constituency of environmental activists is a "no-brainer," said Thomas J. Pyle, president of the Institute for Energy Research,a not-for-profit group in Washington that conducts research and analysis on global energy markets.
"They don't have any skin in the game," he said of states such as Vermont. "Unfortunately for the rest of the country, it sends mixed signals about the safety" of fracking.
In New York, Mr. Cuomo's decision likely won't make either side completely happy. The governor is set to allow fracking only in communities where leaders allow it.
The drilling likely will be only in areas where the Marcellus Shale gas deposit lies much deeper than it does in areas farther north. At the northern edge of the shale, Mr. Orbach said, the formation nearly comes to the surface.