BEIRUT (AP) — Syrian forces pushed out scores of rebels holed up in a rebellious area near the Mediterranean coast Wednesday, and state television said they retook control of the region following eight days of fierce shelling and clashes.
The mountainous Haffa region is one of several areas where government forces are battling rebels for control in escalating violence. Recovering it is particularly important to the regime because the town is about 20 miles from President Bashar Assad's hometown of Kardaha in Latakia province. Latakia is the heartland of the Alawite minority to which Mr. Assad and the ruling elite belong, although there is a mix of religious groups there.
France said Syria is already in a civil war, echoing a similar statement by U.N. peacekeeping chief Herve Ladsous on Tuesday.
New French Foreign Minister Laurent Fabius told a news conference in Paris, "If you can't call it a civil war, then there are no words to describe it." He added that to stop "this civil war from worsening," Mr. Assad must leave power and Syrian opposition groups must start a new government. He said he will be in personal contact with the opposition inside Syria.
Earlier, Syria'sForeign Ministry expressed "astonishment" over Mr. Ladsous' statement that the country was already in a civil war. The ministry said it lacked objectivity, was "far from reality" and was inaccurate.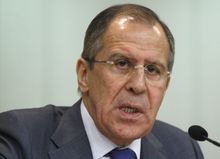 "Syria is not witnessing a civil war but rather an armed conflict to uproot terrorism and confront killings, kidnappings, bombings … and other brutal acts by armed terrorist groups," the ministry said. Syrian authorities often refer to rebels fighting to oust Mr. Assad as terrorists.
U.S. State Department spokeswoman Victoria Nuland warned two days ago that Mr. Assad's forces could commit massacres in Haffa, drawing condemnation from the Syrian Foreign Ministry, which accused the U.S. of "blatant interference" in the country's internal affairs.
State television said regime forces had "cleansed" Haffa from "armed terrorist groups," and the Foreign Ministry urged U.N. observers to immediately head there.
"This invitation comes in the framework of the observers' mission to find out what is happening on the ground and to check what the terrorist groups have done," a statement said.
It was not immediately clear whether U.N. observers in Syria would be able to reach Haffa. On Tuesday, an angry crowd hurled rocks and sticks at the observers' vehicles as they approached the area, forcing them to turn back. The observers were not hurt. Sausan Ghosheh, a spokeswoman for the observers, said they have been trying to reach Haffa since June 7.
Hundreds of rebel fighters were believed to have been holed up there and pulled out overnight after intense fighting in Haffa and nearby villages. The rebel fighters fled the villages of Zanqufa, Dafil and Bakkas under the cover of night, said Rami Abdul-Rahman, director of the British-based Syrian Observatory for Human Rights, citing a network of activists on the ground.
On another front, fireballs of orange flames exploded over the central city of Homs, where Syrian forces fired a continuous rain of shells that slammed into the rebel-held neighborhoods of Khaldiyeh, Jouret al-Shayyah and the old city.
But even after a week of intense shelling, rebels were still clinging to the area. Footage posted by activists from there showed a city covered in a plume of heavy grey smoke. The intermittent thud of shells was heard, followed by explosions as they slam into buildings.
In the nearby town of Deir Baalbah, rebels and troops exchanged fire in residential areas, with rapid snaps of sustained gunfire echoing through the area, according to amateur video that purported to be from the scene.
In the rebel-held town of Rastan, north of Homs, six youths were killed in shelling, activists said. The circumstances of their death were not immediately clear.