As the afternoon workout drew to a close, Thomas Robinson listened and nodded as Washington Wizards coach Randy Wittman told him to get out on the wing and run. Robinson raced up the court, ran around a couple of orange cones, stopped just inside the 3-point line and put up a shot.
Wittman was paying close attention, and so was team president Ernie Grunfeld.
"It was good," Robinson said of his workout. "It was my first one. My shot didn't look as pretty as I wanted it to; it was about average. I think I did a good job. My energy level was there."
Robinson, a future lottery pick, was one of three players invited to work out for the Wizards on Wednesday as they prepare to make what could be a franchise-changing selection with the third pick in the NBA Draft on June 28.
The D.C. native seemed completely at home on the Verizon Center practice court, clad in Wizards gear and joking with jovial assistant coach Sam Cassell.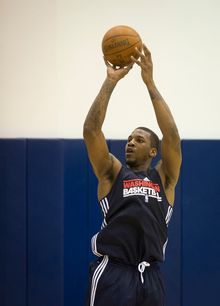 "I was a lot more comfortable than I thought I'd be," Robinson said. "They made me feel as if I was already on the team. They guided me through everything. It was more of a learning experience, rather than throwing you out there to see what you can't do."
The 6-foot-9 power forward says he's up for a challenge, and at 21, the former Kansas star already has been through more than his share.
He lost his mother, grandmother and grandfather within a three-week period from December 2010 to January 2011. Robinson's former coach at Kansas, Bill Self, marveled at Robinson's ability to even get on the court during his time of family tragedy.
On his right arm, Robinson has a tattoo that reads, "There is no success without failure."
Last year's Big 12 Player of the Year, Robinson decided that it was time to begin his NBA career. He radiates self-confidence when he calls himself the best player in this year's draft.
"As far as being prepared for the league, I think I am the best player in the draft," Robinson said. "That's just me being a competitor, not to take anything away from Anthony Davis. He's a great player."
Davis, the former Kentucky freshman and national Player of the Year, is expected to go to the New Orleans Hornets with the No. 1 pick. The Charlotte Bobcats will pick second, and after finishing with the worst winning percentage in NBA history (.106), have holes to fill at nearly every position.
The Wizards selected two forwards in last year's draft - Jan Vesely with last year's lottery pick at No. 6 and Chris Singleton at No. 18. With the current roster, the Wizards seem to have an abundance of players at that position, including Andray Blatche, Rashard Lewis and Trevor Booker, and will need to make a few changes if they plan to select Robinson.
Robinson's twice-a-day workout routine includes cardio in the morning and about 1,000 jump shots per day. He's not sure what other teams will call him in for a workout, but in the meantime, he's continuing to work on his game.
"The main focus of my game is rebounding and running the floor, and I will outwork everybody on the floor," Robinson said.