SAN FRANCISCO — All it takes is one slight miss for this U.S. Open to get a whole lot harder.
Tiger Woods pushed his tee shot on the 670-yard 16th hole at Olympic Club just enough to find the right rough, which was moist from the marine layer that covered the course Wednesday morning. The ball at least was sitting up, allowing him to take a cut with his 4-iron to get it back in play.
It's rare when Woods cannot reach a par 5 in two shots.
But having to smash a 3-wood from 256 yards for his third shot?
In the days leading up to the U.S. Open, the biggest debate was whether the toughest stretch at Olympic was the opening six holes, or all 18 of them. About the only consensus was there won't be a repeat of the score Rory McIlroy posted last year at Congressional a record-shattering 16-under 268.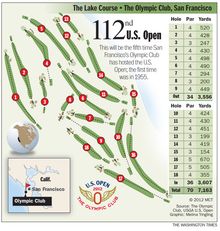 Jack Nicklaus, an expert on the U.S. Open from having won four of them, was asked to name the toughest and easiest courses he has played in this championship. He finally settled on Pebble Beach in 1972, when the wind blew so hard that Nicklaus won by three shots at 2-over 290 and never broke 70.
As for the easiest?
As Nicklaus thought back to the 44 times he had played, USGA executive director Mike Davis playfully interrupted.
"You didn't play last year, did you?" he said to Nicklaus.
No one disputes the U.S. Open fulfilled its mission last year by identifying the best player in McIlroy. It just looked more like the Greater Hartford Open at times. In a relentless assault on a course softened by rain, McIlroy needed only 26 holes to reach double figures under par and he never let up until he had his name in the record book and an eight-shot win.
"We want this event to be a real challenge," Davis said. "I think looking back, we identified the best player last year. He's been a wonderful champion. But at the same time, I wouldn't want to go through every year where we have four days of wet, soft conditions because it doesn't … really embellish on what we're trying to do in terms of identifying a national champion."
That sounds like a polite way of the USGA saying that it's time for payback, just like in 1974 after Johnny Miller shot 63 to win at Oakmont.
Only at Olympic, the USGA didn't have to do too much.
No one has brought Olympic to its knees the four previous times it hosted the U.S. Open, and no one sees that happening this year. Never mind that at 7,170 yards it is among the shortest of U.S. Open courses. Olympic always play big.
"What is par, 70?" Masters champion Bubba Watson said. "It's not really 70. It's over par. Five-over par at the end of the week, just like at Oakmont [in 2007], probably has a great shot at winning, unless something changes dramatically with the weather or something like that."