KAUNAS, Lithuania — A desperate father launches a bloody vendetta against an alleged pedophile network of judges and politicians that he says preyed on his 5-year-old daughter.
After two killings, Drasius Kedys hides in the countryside until he is found dead under mysterious circumstances.
It's not the plot of a Stieg Larsson crime novel, but the outline of a sad and sordid case that has split Lithuania into two camps.
One side thinks Kedys fabricated the allegations as part of a custody dispute with the girl's mother; the other sees a wider conspiracy of corrupt child molesters running the country.
Experts say the dispute, which has become a national obsession, reflects deeper currents of discontent in a post-Soviet society plagued by emigration and the world's highest suicide rate.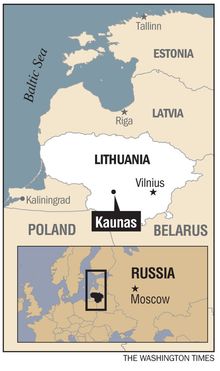 Two years after Kedys' body was found, the case still inflames passions in Lithuania, and last month even reached the U.S., where an angry mob of Lithuanian-American Kedys supporters swarmed the Lithuanian president's motorcade ahead of the NATO summit in Chicago.
"If I were able to say where the truth is and who is right, I would have done so long ago," President Dalia Grybauskaite told a group of Lithuanian-Americans in Lemont, the Chicago suburb where she ran into the protest. "Unfortunately, the whole story is very complicated and corrupted by investigators from the beginning."
Vigilante hero or villain?
The drama unfolded in Kaunas, a city of 500,000 in south-central Lithuania notorious for lousy infrastructure, lopsided wooden homes, and not least of all, corrupt officials wedded to local crime syndicates.
Kedys, a bodybuilder businessman, was a father determined to retain custody of his daughter, Deimante.
Not only did he accuse the girl's mother of pimping Deimante to a pedophile ring, but he videotaped the girl giving detailed descriptions of sexual acts he claims she was asked to perform by three grown men, then sent the video to more than a hundred politicians and law enforcement officials.
When his appeal fell on deaf years, Kedys took the law in his own hands.
In October 2009, he is said to have fatally shot two people he had accused of abetting the reputed pedophile ring - one of whom was the mother's sister.
He then disappeared, only to be found dead six months later, in April 2010. Police said he died after binge drinking and choking on his own vomit - a finding that many Lithuanians don't believe.
The tragedy didn't end there. Two months later, one of three men whom Kedys accused of molesting his daughter, died after ostensibly falling from his dune buggy and drowning in a creek that was only 8 inches deep.