This offseason stings.
It's not because the American University women's basketball team lost a shot at its first NCAA tournament appearance. It's because the Eagles lost Kayla.
Kayla Wenger, a 12-year-old Bethesda native, sat courtside in her wheelchair at almost every home game. Facial paralysis made it difficult for her to smile or express herself. A deaf left ear dampened the roar of the crowd. Partial blindness in her left eye blurred the experience.
The Eagles would high-five Kayla during warm-ups. She had her own jersey, her own water bottle, her own "AU swag." After the game, she often was one of the first people to greet the team in the locker room.
American never lost when she was at the game.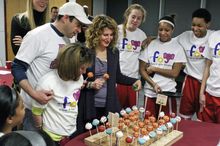 The women's basketball team adopted Kayla through the Friends of Jaclyn Foundation, which matches children suffering from brain tumors with college athletic teams. Its namesake, Jaclyn Murphy, fought a pediatric brain tumor and was adopted by the Northwestern women's lacrosse team in 2005. She inspired the team, which has since won seven of the past eight national championships. A healthy Jaclyn is playing lacrosse at Arlington High School in New York.
American experienced similar success with Kayla this past season. After a slow start, the Eagles formally adopted her in mid-December. They finished with the most wins in a season in program history (23) and the first perfect conference record (14-0) in Patriot League history.
"I think [she] gave us perspective," American coach Matt Corkery said. "She brought a kind of light into the program in a completely different way that we would not have had a chance to experience otherwise."
"She gives us strength," team captain Lisa Strack added. "Just knowing what she's been through gives everyone on our team strength … that this girl can withstand so much."
———
A framed picture hangs on the far wall of Corkery's Bender Arena office. It reads: "You can't live a perfect day without doing something for someone who will never be able to repay you."
The phrase is American's mantra for service, a constant reminder that Division I athletics can often be used to achieve a greater good. It's why Corkery contacted the Friends of Jaclyn Foundation. If his team could bring a single smile to someone, or brighten a single day in someone's life, he figured the experience would be worth it.
On a blustery December evening, Corkery, Strack and redshirt sophomore Geleisa George were invited to the Wengers' home to meet Kayla. They were greeted at the door by her father Eric, a 44-year-old lawyer at Microsoft, and mother Laurie, an ophthalmologist.
Between slices of pizza and board games, they saw a 12-year-old who, despite her physical limitations, was completely and totally normal. Kayla was sharp, funny and, above all else, extremely competitive. She argued with her siblings — Sam, 13, and Madeleine, 10 — but they argued right back.
"No matter what anyone said, she was going to win," George said.