For two weeks and two days starting late next month, the Rockville Hilton will be the chess epicenter of the country as Maryland Chess Association officials plan five major events in the space of 16 days, including a strong open tournament featuring former U.S. champion Gata Kamsky and Potomac-based former world senior champ GM Larry Kaufman.
Organizers are billing the ambitious "chesstravaganza" as the Maryland Chess Summer, kicking off the festivities with the 2012 U.S. Cadet Championship for the country's top under-16 talents from July 21 through 23. Past winners of the Cadet have included Maryland GM Alex Sherzer and world junior champion GM Tal Shaked. The winner of the eight-player invitational wins a full four-year ride to the University of Maryland-Baltimore County.
The centerpiece of the banquet will be the Washington International, a nine-round Swiss event boasting a $17,000 guaranteed prize fund and an opportunity for local players to qualify for international master and grandmaster norms. Players must have a FIDE rating of at least 2,100 to enter, and a major blitz tournament will be offered on the side.
In addition to Kamsky and Kaufman, early entries include GMs Alex Onischuk, Timur Gareev and Mikheil Keklidze. Play begins on July 28 and runs through Aug. 1.
Concurrent with the International, the MCA has organized a round-robin for some legendary veterans of the game, including former multiple U.S. champs Lev Alburt, Boris Gulko and Gregory Kaidanov. The Platonov Memorial Tournament is being organized in honor of GM Igor Platonov, the noted Soviet grandmaster and coach who died in 1994.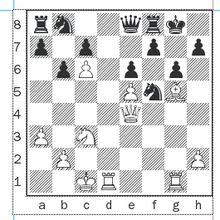 More details on all these events and accommodations at the Rockville Hilton are available at the Maryland Chess Association website, www.mdchess.com. Sponsorship and financial support opportunities also are available for those looking to support a major new date on the local chess calendar.
–
Breaking news - With a last-round win over English GM Luke McShane Monday, top-ranked GM Magnus Carlsen has won the seventh Mikhail Tal Memorial Tournament in Moscow. The young Norwegian, the only undefeated player in the star-studded field, finished a half-point ahead of U.S.-born Italian GM Fabiano Caruana after Caruana lost his last-round game to world No. 2 GM Levon Aronian of Armenia.
The fighting quality of the play in Moscow was impressively high, with even rarely defeated stars such as Aronian and former world champion Vladimir Kramnik suffering multiple losses. Russian GMAlexander Morozevich, who at the tournament's midpoint was a full point ahead of the field, refused to play it safe and came to grief against American champion Hikaru Nakamura in a double-edged struggle.
In a Queen's Gambit Accepted, Morozevich as White gins up a very dangerous initiative by sacrificing a pawn and then trying to break down Black's kingside defenses: 19. Be4 Bxe4 20. Qxe4 b6?! (Nakamura later admitted he underestimated White's coming f-pawn push) 21. Nc3 0-0 22. c6 Nb8 (better might be 22. … Nc5 23. Bxc5 bxc5 24. Rd7 Nf5 25. Qc4) 23. f5!, and suddenly White's queen, bishop and rook threaten to weave a mating net around the Black king.
The game's critical moment may have come on 24. Bg5 Qe8 (see diagram), when after 25. Rd8!? (the move Nakamura expected) Qxd8 (Qxc6? 26. Rxb8!) 26. Bxd8 Rxd8 27. Nb5 a6 28. Nxc7 a6, the computers come up with the astonishing 29. Na8!! Nxc6 30. Nxb6 Ncd4 31. Kb1, and White retains his edge.
As White tries to crack open the g-file, Black has just enough time to organize a saving counterattack, aided by a critical White mistake: 36. Rd2 c4 37. Ka2 a5 38. Qd1? (putting the queen on the worst possible square; 38. Ka1 kept things in balance) c3! 39. bxc3 Ne3! (attacking the queen and relocating to d5 with tempo) 40. Qe2 Nd5 41. Qd3 (Qc4 Qa4! 42. Qxa4 Nxc3+ 43. Ka1 Rb1 mate) a4!, and the threat to invade with the rook via b3 will prove decisive.
In the final position, the trade of queens will leave White facing the loss of either his a-pawn or e-pawn; Morozevich resigned.
–
In soccer it might be called a "friendly." Top players from Georgia and Azerbaijan engaged in a bilateral "Friendship Match," with the Azeris coming out on top by a cumulative score of 14 1/2-10 1/2. Azeri GM Shahkriyar Mamedyarov led the way with a 4-1 individual score, including a nice queen sacrifice win against Georgian GM Konstantine Shanava.