It's early morning on the University of Maryland campus, and Andrew Valmon is standing on the track holding two stopwatches. He conducts his workouts early, before the midday heat sets in.
Just weeks before the U.S. Olympic track and field trials, Valmon was hard at work preparing for the London Games and trying to save the school's track program, which was marked for budget-driven elimination. Fundraising has been at the forefront lately for Valmon, but as the Olympics near, his focus has shifted back to his side job.
Selected by his peers as coach of the Olympic team, the 47-year-old says he was flattered but somewhat reluctant to accept the job.
"There was some hesitation at first," Valmon said. "You dream about getting to the Olympics. For a track athlete, it's the pinnacle of success. When you stop running, you find yourself living vicariously through your college kids, and then you realize that you can't run for them.
"So your next step is being an Olympic coach and having the opportunity to work with the greatest athletes in the world. I guess I can say I've come full circle."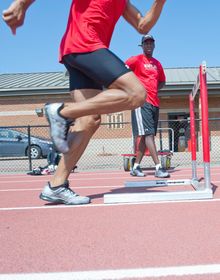 Inspired by the greats
A native of Manchester Township, N.J., Valmon saw track legend Carl Lewis run when Lewis, four years his senior, was in high school. He decided it was something he wanted to try.
"No one had better form and technique than Carl Lewis, and he accomplished so much," Valmon said. "He had this sheer will, and he ran so gracefully, it made track seem like a sport that you wanted to do. I thought, 'I'm from New Jersey and so is Carl, maybe I could go to the Games someday, too.' "
It was during his college days at Seton Hall when Valmon met Olympic hurdler Edwin Moses, whose advice helped Valmon clarify his own path.
"One day I talked to Edwin Moses, who had won maybe 80 or 90 consecutive hurdle races, and he said 'If you believe in what you want to be, you'll have the opportunity to be successful.' I thought it sounded kind of easy," Valmon said. "I was looking for something more sophisticated, but I started thinking about what he said, and started training and thinking 'OK, one step at a time.' "
Valmon found success as a 400-meter relay specialist and went on to win gold medals at the 1988 Olympics in Seoul and the 1992 Games in Barcelona. He also won a silver medal at the 1991 World Championships and a gold medal at the 1993 World Championships.
"At that moment, on the medal stand, you reflect on your whole life," Valmon said. "That's the only time that you think about from birth to where you are at that moment. That medal makes you think about your life."
Athlete-friendly' approach
Valmon's coaching career began as an assistant at Georgetown in 1995. He eventually spent four seasons as the Hoyas' head coach before taking the Maryland job in 2003. He has also worked with the U.S. national team as an assistant coach at the 2009 World Indoor Championships and as head coach at the 2010 World Outdoor Championships.
Now, as coach of the Olympic team, Valmon reflects on the approach he takes with his athletes.