A question lingers in Len Hauss' mind, like the bite from ammonia capsules trainers used to wave under his nose. Once, Hauss seemed indestructible. One hundred ninety-two consecutive starts over 14 seasons at center for the Washington Redskins earned him a spot in the team's Ring of Fame. He was knocked silly and knocked out and, if he could get his eyes open with help from the pungent capsules, he stayed on the field. Job security, even for a six-time Pro Bowler, meant playing. Now the 69-year-old with a gentle Georgia drawl wonders about football's toll.
"You covered up your hurts. Is that smart or is that stupid?" Hauss said. "In 1965, I thought it was pretty smart. They thought you were invincible. Thirty-five years later, looking back you think, 'Damn, I wish I wouldn't have played in that game.'"
(CLICK HERE TO VIEW THE CONCUSSION LAWSUIT DATABASE)
Hauss endured five surgeries on his left knee, two operations each on his elbows and back. His right arm is weak. Walking is difficult some days. Headaches come and go. So do gaps in memory.
Retired after a second career in banking, Hauss estimates he sustained between five and 10 concussions during his 14 years with the Redskins. But, he wonders, do occasions when he returned to the huddle dazed after a collision count as concussions, too? How about times when someone didn't know where to line up because of a blow? What of the repeated licks, like one at San Francisco in 1976, where he didn't return to reality until "a good while" after the game?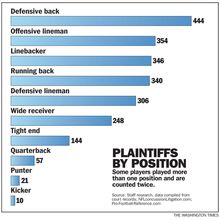 Unease and uncertainty lurk behind each word and, in that, Hauss is not alone.
Over the past 11 months, 2,397 former players have have sued the NFL over concussions, according to a review by The Washington Times of the 90 lawsuits filed through June 14. The plaintiffs, including 19 members of the Pro Football Hall of Fame, combined to play 168,020 NFL games.
Paul Anderson, who chronicles the issue at NFLConcussionLitigation.com, believes the number of plaintiffs could double in coming months, from a pool of at least 12,000 retired NFL players.
Three members of the Redskins' Ring of Fame — Hauss, Billy Kilmer and Art Monk — are among 205 ex-Redskins in the lawsuits. Twenty-five former Redskins with 12 or more seasons of experience have sued, the most of any team in the league.
"You're not so macho when you need help to go to the bathroom or you need help to put your clothes on and be helped to do normal things," former Redskins cornerback Mike Bass said. "Macho doesn't even begin to play into it anymore. … You never know when these types of troubles are going to materialize."
"I worry," said Mark Rypien, the former quarterback and MVP of Super Bowl XXVI who struggles with memory loss, "about the next 10 years."
Lives once defined by seeming invulnerability on the field now are haunted by questions without answers. Some are bitter, viewing these lawsuits as an extension of long-standing conflicts over pensions, health care and use of their likenesses. Others feel betrayed. Will they succumb to depression or dementia or Alzheimer's? Will they end up like Junior Seau or Ray Easterling, who killed themselves in the past three months?
"They're scared, there's no doubt about it. They're feeling like it's going to be them or the guy sitting next to them," said Dr. Randall Benson, who studies traumatic brain injury at the Center for Neurological Studies in Novi, Mich. "This is life-altering [expletive]."
A lingering problem
The lawsuits have become a weekly occurence, filed in state and federal courts from California to Georgia, but are being consolidated in U.S. District Court for the Eastern District of Pennsylvania. They accuse the NFL of, among other things, concealing the long-term consequences of head injuries from players. Some of the thousands of pages appear rushed and riddled with errors, from misspelled first and last names of plaintiffs to incorrect positions, teams and years of service. Details of alleged injuries often are limited to the same vague catch-all sentence for each plaintiff.