ESPN is going all out in its 10th year covering the Wimbledon tennis championships.
The network will expand to 140 live hours of coverage with daylong marathon telecasts of the world's oldest tennis tournament, starting with first ball Monday through to the men's final July 7.
ESPN and ESPN2 will offer high-definition coverage, including three days of coverage of simultaneous matches all day July 2 through 4. ESPN3, the live 24/7 network, also will expand its schedule to present up to nine available TV courts. Viewers can catch all the action online at WatchESPN.com and through the WatchESPN app for smartphones and tablets.
The new schedule stems from an agreement between ESPN and the All England Lawn Tennis Club announced at the conclusion of the 2011 Championships. The agreement set out to ensure live broadcasts by the same company in every time zone.
The two-week Wimbledon tournament has been held at the All England Club in London since 1877. It is one of pro tennis' four Grand Slam events with the French, U.S. and Australian opens.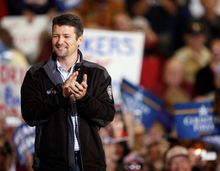 Photographer files complaint over altercation with Baldwin
Another anger mismanagement allegation has arisen against Alec Baldwin, this time on his way to the altar.
A newspaper photographer filed a complaint with police Tuesday accusing the "30 Rock" star of punching him outside a marriage license bureau.
No charges had been filed, and the actor vehemently denied throwing any punches.
New York Daily News photographer Marcus Santos said Mr. Baldwin became enraged as he and other photographers were snapping pictures of the 54-year-old actor and his fiancee, Hilaria Thomas, outside the lower Manhattan office where marriage licenses are obtained.
On Wednesday, the Daily News reported that Mr. Baldwin knocked into a reporter for TV's "Inside Edition" with his mountain bike as he left his apartment building, running over her foot. On Twitter, Mr. Baldwin said the cameramen were chasing him.
After Tuesday's incident, Mr. Santos told the newspaper, "I knew he was going to attack me. I stepped back, and he kept coming." He claimed the actor shoved him before punching him "one time, right in the chin."
A statement on Tuesday from Mr. Baldwin's publicist accused the photographer of being the aggressor.
As Mr. Baldwin and his fiancee were leaving, a person "walking in front of Alec positioned himself to obstruct the view of a photographer aggressively trying to shoot the couple," the statement said. "The photographer was clearly frustrated, pushed past the bystander and assaulted Alec with his camera. There were no punches thrown, and any subsequent physical contact was simply Alec protecting himself."
Photos on the newspaper's website appear to show Mr. Baldwin shoving the photographer.