When a book containing George Washington's personal copies of the Constitution and the Bill of Rights was first sold at a Philadelphia auction house in 1876, it was purchased for $13 — about $277 in today's value, or roughly two-thirds the cost of taking a family of four to watch the mascot version of the nation's first president race around the warning track at a Washington Nationals game.
Times have changed.
Washington's book, printed and bound in 1789 and featuring his handwritten annotations, will be sold at Christie's in New York on Friday and is expected to fetch a winning bid of up to $3 million.
"That's a lot of money," said Edward G. Lengel, the author of "Inventing George Washington" and the editor of the Papers of George Washington Project at the University of Virginia. "But I think it's pretty much impossible to understate the significance of this.
"This was clearly his first printed and bound copy of [the Constitution and Bill of Rights]. One he used for his primary study and reference. We know he thumbed through it frequently and carefully. It's important not only for Washington and his life but for the history of our country."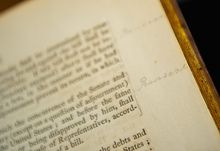 A bespoke, 106-page leather-bound volume, the book contains a record of the first session of Congress — the ratified Constitution, the draft Bill of Rights and acts creating the executive, State and Treasury departments — as well as a custom print of Washington's family crest and his signature on the title page.
Next to the elements of the Constitution that outline executive duties and powers, including signing and vetoing laws, controlling the Army and Navy and periodically giving Congress information on the state of the union, Washington drew vertical brackets and neatly penciled in "president," "president powers" and "required."
Washington's annotations make the book unique — and uniquely historic, historian Mary Thompson said.
"Washington typically would make notes as he was reading a book on a separate piece of paper," said Ms. Thompson, a researcher at the Fred W. Smith National Library for the Study of George Washington at Mount Vernon. "He almost never made marginal notes.
"On the other hand, [being president] was a new job for him. Nobody had ever done it before, including himself. I think the notes were his way of reminding himself of what he was supposed to be doing."
Christie's expects the book's auction to attract as many as 150 private and institutional bidders both online and in person. The auction house counts the book among the most notable items it has ever offered. Others include Abraham Lincoln's 1864 victory speech and one of Shakespeare's first folios.
Three years ago, a 1787 letter written by Washington to his nephew and heir Bushrod Washington about the Constitution was sold by Christie's for $3.2 million, the highest known total for a Washington item.
"Traditional book collectors realize that something like this doesn't come on the market very often," said Thomas Lecky, head of Christie's books and manuscripts division. "But this transcends that market, goes beyond just being a book. It's of immense historical importance, of interest to anyone who has an interest in our country's foundations. As soon as you hold it in your hand, you know it's important."
Presidential plunder
A keen student of history, Washington knew his books and letters were important. During the Revolutionary War, he ordered a team of clerks to make copies of his papers and letters for historical reference. After his second presidential term, he began constructing a separate building at Mount Vernon to house his library, which consisted of 800 to 1,000 books and thousands of other documents.