Three gray busts with hollowed out eyes sat to the left of Virginia's chief medical examiner, their congenial expressions eerily at odds with their solemn purpose.
Instead of the names of the men they depicted, the sculptures were identified only by the dates and locations that those men were found dead.
Created by FBI anthropologists and artists based on skulls found in Northern Virginia in recent years, the representations were part of an ongoing effort to identify at least 220 sets of nameless human remains in the state — what Chief Medical Examiner Leah Bush on Thursday called a "silent mass disaster."
Particularly galling, a third of the cases are thought to be homicides.
"We have killers walking free," Dr. Bush said.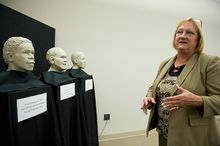 The busts were the third set of three, each set from a different region of the state.
Dr. Bush said she hopes a family member or friend will recognize the individuals from the claylike faces presented at the Manassas, Va., district headquarters of the chief medical examiner. If someone comes forward, officials will do a DNA test to determine whether they are a match.
"DNA is the last resort. These cases we're working now are cases that have been long-term unidentified," said Rochelle Altholz, state administrator for the medical examiner.
Officials were quick to note that the sculptures, which they called facial approximations, were not exact representations but rather impressions of what the men might have looked like based on the size and shape of their skulls.
The three men whose remains were depicted in the displays were found with skulls in good condition, which the FBI used to estimate likenesses, Ms. Altholz said.
Many times only partial remains are discovered, making the identification process more difficult.
The first bust was of a black man in his mid-30s, standing between 5-feet-7-inches and 5-feet-8-inches tall, Dr. Bush said.
A National Park Service maintenance worker found the remains near a bike path off of George Washington Memorial Parkway under the Theodore Roosevelt Bridge on Jan. 16, 2003. The remains had been there for about six months, U.S. Park Police Sgt. Paul Brooks said.
The second bust depicted the features of an Asian man between 5-feet-5-inches and 5-feet-9-inches tall in his late-30s or early 40s.
Sgt. Brooks said the remains had been under the Woodrow Wilson Bridge near Fords Landing Way in Alexandria for approximately 18 to 24 months before a man walking his dog found them on Feb. 13, 2011. The area is also known as Jones Point.