OSLO, Norway (AP) — The trial of Anders Behring Breivik ended Friday with the confessed mass killer demanding to be set free and vowing that history would exonerate him for a bomb-and-gun rampage that killed 77 people.
The self-styled anti-Muslim militant got the final word in the 10-week proceedings, but it's unclear whether it helped the main point of his defense: trying to prove that he is sane.
In a rambling statement, Breivik lashed out at everything he finds wrong with the world, from non-ethnic Norwegians representing the country in the Eurovision Song Contest to the sexually liberated lifestyle of the characters in the American TV show "Sex and the City."
Incorporating current events into his statement, he claimed that fellow right-wing extremists were behind a small amount of explosives found outside a Swedish nuclear plant this week. Swedish police spokesman Tommy Nyman had no comment "especially not if he says it."
While some of Breivik's comments prompted laughter in the Oslo court, a serious atmosphere returned when he reiterated his motive for bombing the Norwegian capital's government headquarters, killing eight, and hunting down teenagers at the Labor Party's youth camp. Sixty-nine people were dead and dozens more injured in one of the worst peacetime shooting massacres by a single gunman.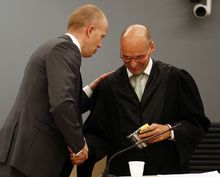 "History shows that you have to commit a small barbarism to prevent a bigger barbarism," the 33-year-old Norwegian said.
"The attacks on July 22 were preventive attacks to defend the indigenous Norwegian people," he said. "I therefore demand to be acquitted."
Breivik claims the governing Labor Party has betrayed the country by accepting Muslim immigrants and must be stopped before turning Norway into what he called a "multiculturalist hell."
Earlier Friday, defense lawyer Geir Lippestad had tried to prove his client is sane — the key issue to be resolved in the trial since Breivik admits the attacks.
Lippestad also formally entered a plea for acquittal, but it was made out of principle, without any realistic chance of success.
Also Friday, relatives of some of those killed tried to put their loss in words. Kirsti Loevlie, whose 30-year-old daughter Hanne was killed by the bomb, moved the court room to tears when she described the shock of finding out her daughter was dead, the grief of cleaning out her room and the first Christmas without her.
Still, Loevlie said she felt a need to attend the trial, seeing Breivik in a position where he couldn't hurt anyone anymore.
"I am not going to be afraid of this man," Loevlie said. "I decided I would go to court. I felt I owed it to Hanne."
The court room burst out in applause and audible sobs as she finished her statement.
Breivik remained motionless, his face blank.