It happens every summer. Young men everywhere find jobs that enable their golfing addiction. Any gig that pays enough for greens fees will do, whether it's working as a cart boy at a club, waiting tables or any other odd job.
Patrick Cantlay is one of the select few whose game is good enough to support itself. So the 20-year-old UCLA student turned professional June 19, just before returning to the site of one his greatest golfing accomplishments.
Cantlay is back at Congressional Country Club this week for the AT&T National after winning low amateur honors here at last year's U.S. Open.
"I've matured a lot in that year," he said Monday. "The confidence in my game is high right now. I just feel like it's the best thing for my golf as far as growing my golf. I'm going to get best fastest being a professional."
Turning pro was the logical next step in what has been a steady climb. Before 17-year-old Beau Hossler captured hearts earlier this month when he led the U.S. Open at one point, Cantlay commanded similar attention among amateurs. He held the top spot on the World Amateur Golf Rankings for 55 weeks until he dethroned himself with his decision to turn pro last week.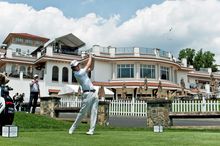 Cantlay sustained the ranking with a string of results that indicated his readiness for professional status. He played in five tour events in 2011 and finished in the top 25 in four of them. Besides shooting even par at Congressional last June, he shot 7-over at the Masters in April to win low amateur honors there and tie for 47th place.
He earned his spot in the Masters by finishing as the runner-up at the U.S. Amateur last August. And earlier this month at the Olympic Club in San Francisco, he tied for 41st at the U.S. Open. The four pros he tied with each earned $38,816.
"I think this is great timing for him to turn professional," UCLA golf coach Derek Freeman said. "It's still golf. Now there's lots of travel involved, and there's tough golf courses, and there's the very best in the world you have to compete against, but he understands that. He's got the mindset of wanting to be successful, so he's going to figure out a way to do that."
Cantlay's evolution from prodigious amateur to burgeoning pro has been clear to those around him.
Chris Roth, Cantlay's caddie, marveled at the improvement since the two played together on the Servite High School golf team in Anaheim, Calif. Cantlay won the state championship as a senior.
"When I first played with him his freshman year, my sophomore year, he was maybe driving the ball 240-250 [yards]. Now he's hitting it past 300," said Roth, a rising senior at the University of Arizona. "He's just getting more consistent, continually grinding and having those low scores, not missing many fairways or greens, which has improved over the year. Same with his distance, which obviously helped him to compete with the bigger boys."
Cantlay's short game sharpened while at UCLA, Freeman said, making him into a well-rounded player. Collegiate practices included repetitive short game work involving different types of lies and situations.
"We would try to get all the guys to understand you have to hit certain shots certain ways with different spins and different clubs, and you have to use your imagination a lot of times," Freeman said. "That's something that as he plays more tour events, and these golf courses are tough — the rough is high, the greens are hard — he's going to understand more and more how he has to prepare, place the ball in the right spot and then hit the right short game shot."
More than any improvement in his game, though, Cantlay found conviction in his decision to turn pro because of his experience in tour events.
He cruised through a grueling six-hour round Monday as part of a pro-am event involving tournament sponsors. Such commitments are part of life as a pro golfer. It's not some slack summer job.