Two weeks after a memorable U.S. Open at the Olympic Club, Beau Hossler is playing at the AT&T National thanks to a sponsor's exemption.
Coming into the AT&T National, Hossler has competed in the U.S. Open twice before entering his freshman year at the University of Texas.
He missed the cut last year at Congressional after shooting 11 over the first two days. But the 17-year-old made headlines at Olympic by briefly leading in the second round.
"It was pretty cool to see my name on the leader board," said Hossler.
Entering the weekend, Hossler had shot the same or better than 13 of the top 15 golfers in the world. The only two who had a better first two rounds were Tiger Woods and Graeme McDowell.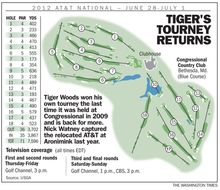 Hossler has had to deal with the jump from high school tournaments to majors twice in his career.
"It's pretty different," Hossler said. "I feel like I'm making the change pretty well, so hopefully I can continue doing that."
As for the AT&T National this weekend, Hossler just wants to play well.
"I'm not going to put any numbers or anything on it," he said. "I just want to make sure I'm getting everything out of my round. It was the same with the U.S. Open."
Furyk ready to move on
Jim Furyk is looking ahead after a disappointing final round in the U.S. Open two weeks ago.
"I've put it behind me," Furyk said of his final-day collapse at Olympic. "The idea is to learn from my mistakes and try to play very patient because this golf course … is playing very difficult right now."
Furyk has enjoyed success at Congressional.
"I've finished in the top-five or top-10 in a few of these AT&T events, and I finished well here in the U.S. Open back in '97."
Mahan aiming low