DENVER — The bar the Washington Nationals set Tuesday night was high. The offensive outburst seemingly 71 games in the making became their standard bearer for a season in which consistency has been fleeting. But with each excited answer about the breakthrough came a warning: every night couldn't possibly be like this.
Could it?
The Nationals didn't take batting practice Wednesday, much-needed rain washing that possibility away. The man who'd hit two of their four homers the night before, Adam LaRoche, was on the bench with a scheduled day off. The man on the mound was the one they almost never score runs for.
And yet, when it was all over, the 43-30, National League-best Nationals made their newfound reputation as an offensive juggernaut stick for at least one more night. In an 11-5 victory over the Colorado Rockies, they scored at least 11 runs in back-to-back games for the first time since September 2005 and continued to take advantage of the friendly confines of Coors Field and a major league-worst pitching staff.
"I've said all a long, all we have to do is do the things we're capable of," said Nationals manager Davey Johnson, his team collecting 23 runs off 42 hits in its past 18 innings. "It seems like we're starting to as a group. We certainly have the potential to be a really good offensive ballclub."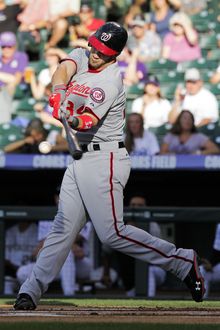 Their offense drew your eye to the crooked numbers in the box score, the 14 hits (eight for extra bases), the three home runs, the averages on the rise. Ian Desmond, Tyler Moore and Ryan Zimmerman all homered. Every position player except Mark DeRosa picked up a hit. Jhonatan Solano led the way with three and fellow rookie Moore raised his average to .346 despite a 3-for-19 tour in his first call-up.
But it was the 26-year-old right-hander on the mound, the one used to an average of 2.4 runs of support while he is in the game, who dazzled.
For all the starts Jordan Zimmermann has seen several strong innings of work washed away with one bad pitch, all the times he's stood at his locker trying to explain a good-but-not-good-enough start, Wednesday night at Coors Field was his sanctuary.
"We can finally put the no runs scored [for] Jordan behind us," said Desmond, who was 2-for-5 with his 12th home run and 21st double of the season. "I'm happy for him. Finally."
It was the most runs the Nationals have scored for Zimmermann since May 7, 2009 — his rookie year. And it allowed him to pound the strike zone, to look for early contact and to get through seven innings on 95 pitches, giving up just one earned run off eight hits, and to keep alive an admirable streak of consistency.
Zimmermann hasn't pitched less than six innings in any of his 15 starts this season. He's made it through seven on seven occasions and lowered his ERA on the season to 2.77. He may never draw the camera flashes or the hoopla that of some of his rotation mates, but none of them can say they've provided innings the way he has this season.
"He's been unbelievable," Johnson said. "He's not underrated by us, or the league. He's a man out there."
"I'm definitely happy," Zimmermann said, despite the fact his slider rarely broke and he found his curveball hanging plenty in the thin Denver air. "I want to keep it going. Just try to go six, seven, eight innings every time out and try to limit the runs and the damage. I've been doing that so far."
With an offense like the Nationals have had the past two games, it makes it easier to do. They knocked out Edwar Cabrera, called up from Double-A to make his major league debut, in 2 ⅓ innings. Anyone who followed had a similar lack of success.
Desmond continued to quietly put together a compelling case for the upcoming All-Star Game. Moore, a self-described "see-ball, hit-ball" type of guy at the plate, continued to put more distance between himself and the minor leagues. Zimmerman continued his impressive return to form. Solano and Bryce Harper added doubles. Michael Morse continued to watch his average rise, now 40 points higher than it was Tuesday morning.