Professional golf tournaments, like every sporting event, have certain customs that give them life. The traditions established and upheld by fans provide the flair and so much of what makes these competitions special.
When the leader of a tournament makes a birdie on the back nine in the third round, crowds respond with a booming cheer. There are sure to be some boisterous patrons who yell, "Get in the hole!" after tee shots just for kicks. And when Tiger Woods surges on a Saturday to position himself for a run at a victorious Sunday finish, the gallery's roars usually echo around the golf course, serving notice that one of the game's greatest players is in form.
None of that occurred Saturday, though, in the quiet bizarro world that was Congressional Country Club.
AT&T National officials closed Saturday's third round to ticket-holding patrons in the interest of safety after Friday night's derecho downed 40 trees and littered club grounds with loads of debris.
So Woods' surge to 6-under par for the tournament and leader Brendon de Jonge's fight to hold him off with a one-shot lead was witnessed live only by a handful of reporters, a skeleton crew of course marshals, a few club members and some friends and family of players.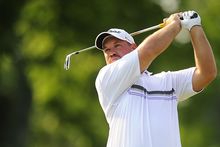 "It was like playing a practice round overseas," Woods said.
The world's most famous golfer is accustomed to playing in front of galleries stacked 10 people deep at major tournaments. The images from his bogey-free, 4-under 67, then, were surreal. An intimate gathering of about 50 spectators followed him around the Blue Course. "I told Tiger that was a Bo Van Pelt crowd," cracked Van Pelt, one of Woods' playing partners. Van Pelt has won only once in 309 PGA tournaments.
There was firm applause when Woods drained his 8-foot birdie putt on No. 1, but nothing like the normal cheer of a packed house eager for Tiger to force his way into contention.
Woods, who began the round five shots behind 36-hole leader Hunter Mahan, closed the gap again by swirling in a 40-foot birdie put on No. 3. He was surprised to not miss the energy of the crowd's usual reaction.
"Making birdie at Nos. 1 and 3, whether there was applause or not, now I'm only three back," Woods said. "Let's keep chipping away at this lead."
Woods provided a signature moment by chipping in for birdie on the par-5 sixth. His third shot bounced over the green and came to rest in the deep rough on the slope. He flopped a shot about 6 feet high in the air, and it trickled home.
"It might have been a little bit louder on 6 when I holed that shot than just 20 people clapping," Woods said with a smile.
His round retained at least some semblance of normalcy because of the few fans offering support. The final group, including de Jonge and Mahan, walked long stretches of the course without a single fan following them.
Kandi Mahan sat by herself next to several fairways and greens with a clear view of her husband's path to a 2-over 73. And when that group was on the 11th tee, dozens of television workers cleared the course because their live broadcast concluded at 6 p.m.
de Jonge shot a 2-under 69 to take a one-shot lead over Woods, Van Pelt and Seung-Yul Noh into Sunday's final round. The Virginia Tech product has never won or even finished second in 136 career PGA tour events.