About a dozen onlookers clapped when Lance Cpl. Jason Deters announced Jim Furyk on the 10th tee of Congressional Country Club's Blue Course Saturday afternoon. Under normal conditions, hundreds of fans would have assembled to watch a former U.S. Open champion tee off for his third round at a PGA Tour event, but the scene at the AT&T National is practically unprecedented — and quite surreal — following the derecho that tore through the Washington area Friday night.
There is golf here Saturday afternoon, but you'll have to watch it on television — if yours is among the lucky households with electricity. Tournament officials are not allowing spectators onto the course in the interest of safety. Approximately 40 trees fell on the club grounds, and the damage, though cleaned up enough for golf, is still a factor.
"It's dangerous out there," said Mark Russell, the PGA Tour's vice president of rules and competition. "With a lot of limbs down, a lot of trees down, places to walk and with a large gallery, we just thought it would be best if we didn't allow that today. You all know what an extreme measure that is. We don't do that."
The start of the third round was delayed six hours while grounds crews, tournament officials and Tiger Woods Foundation members worked to get the course and tournament infrastructure ready for play. Congressional members are allowed out there.
The remaining field of 81 golfers will play the final two rounds in groups of three, starting from holes Nos. 1 and 10. The third round began at 1 p.m. Saturday.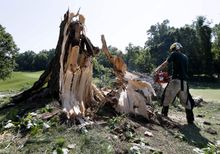 Sunday's final round is scheduled to begin at 11 a.m. with gates opening at 9 a.m. Tickets for Saturday will be honored Sunday, tournament director Greg McLaughlin said. Tournament officials will formulate a compensation plan for unused Saturday tickets.
A skeleton crew of volunteers is working the third round. There are walking scorers and spotters to help locate errant shots that settle in the thick rough. They also provide feint applause in the absence of fans. Friday's attendance was close to 30,000.
"The good news is I can count my attendance today," McLaughlin cracked. "I'm counting all one by one and handing them a ribbon so they don't get double counted."
Congressional was not spared the extensive tree damage with which the Washington area is coping in the aftermath of the storm. Winds up to 70 miles per hour downed trees and blew over tents set up for the tournament. Fallen trees intersected fairways and walking paths. Smaller branches and leaves are strewn everywhere. Maintenance crews worked through the night.
"They did an unbelievable job," McLaughlin said. "Without them we would not have been able to play at all today. You come to Congressional because these guys host majors, and they have a grounds crew that hosts majors. With all due respect to grounds crews around the country, there's a difference right there.
Hunter Mahan enters the third round with a 2-shot lead at 7-under par for the tournament. Three golfers are at 5-under, and Tiger Woods is tied for 11th at 2-under.