D.C. Mayor Vincent C. Gray assured immigrant groups Monday that the District is doing all it can to make sure a program aimed at deporting violent aliens does not erode trust between residents and law enforcement after it goes into effect on Tuesday.
U.S. Immigration and Customs Enforcement has implemented the Secure Communities program in nearly all of the country's jurisdictions since it began the effort in 2008.
Under the program, the FBI automatically shares the fingerprints and criminal data it receives from local law enforcement agencies with ICE, so immigration officials can focus their limited resources on illegal immigrants who have been charged with crimes such as murder, rape and robbery. The agency touts the program as "a simple and common-sense way" to carry out its mission.
But critics say the program has been enforced inconsistently, ensnaring low-level offenders and diminishing cooperation between immigrant populations and their local police.
"Secure Communities jeopardizes that trust, and consequently makes everyone less safe," Mr. Gray said Monday at a news conference on the steps of the John A. Wilson Building, one day before the District is included in the program.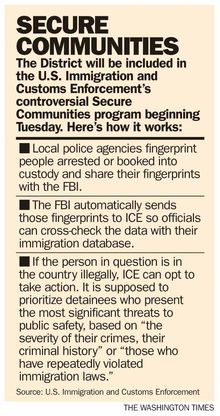 Despite its intentions, the program could dissuade illegal immigrants from reporting crimes to the Metropolitan Police Department or serving as witnesses out of fear of deportation, according to city leaders.
Surrounded by Hispanic advocates, Mr. Gray reiterated that the District is "not going to go about being an immigration agency for the federal government."
D.C. Council member Phil Mendelson, at-large Democrat, said it is hard to argue with ICE's stated goal for the program — to deport violent offenders who are in the country illegally.
"But that's not what they've done," he said. "What we've seen over and over again is that people who have not been convicted of a violent crime are being held — and are being held for days; no, for weeks; no, for months. They're held on mere suspicion, a suspicion that doesn't pan out."
By leveraging data culled by the FBI, Secure Communities does not impose new requirements on local law enforcement, according to ICE. The FBI shares its information with immigration authorities, and the federal government — not a state or local law enforcement agency — decides whether the person is a candidate for removal from the country, the agency's website says.
Because of this, there is little the D.C. government can do except emphasize the bright line between local and federal law enforcement and introduce measures to mitigate the program's effects.
Mr. Gray signed an order in October that prohibits public-safety officers from asking people about their immigration status. The order also directs officers in seven D.C. agencies not to arrest people based only on their immigration status.
Domestic violence cases highlight the need to divorce local crime fighting from immigration enforcement, because spouses sometimes will threaten to call ICE when their partners try to report abuse to police, said Jaime Farrant, executive director of Ayuda, which provides legal assistance to low-income immigrants in the D.C. area.
Mr. Farrant said Mr. Gray, from the start, set the District apart from states with more aggressive stances on undocumented immigrants.
"We will not let Arizona happen in D.C.," Mr. Gray told him, referring to Arizona's tough law against illegal immigrants, according to Mr. Farrant.