Banking regulations have swung too far toward the extreme since the Wall Street meltdown in 2008, which is preventing the economy from moving forward, says the head of a Washington bank.
"We need balance," J. Scott Wilfong, president and CEO of SunTrust Bank of Greater Washington, told editors and reporters at The Washington Times. "I'm not somebody who says you have no regulations. But we should have balanced regulations."
In an interview, Mr. Wilfong criticized changes in the federal regulatory environment since the crisis, saying the government has overreacted to the financial crisis with heavy regulations and said that has contributed to a negative reputation for the banking industry.
He also said the Washington market could be particularly vulnerable if the federal government goes over the looming "fiscal cliff" at the end of the year.
The "fiscal cliff" refers to a number of defense and non-defense cuts in government spending, along with the expiration of the George W. Bush tax cuts at the end of the year, if Congress and the White House don't reach a new budget deal.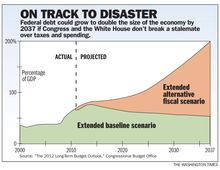 The government has helped the Washington market weather most recessions, Mr. Wilfong said, because federal jobs aren't as dependent on the economy as private jobs.
But contrary to popular opinion, Washington may no longer be "recession-proof," Mr. Wilfong said.
"Up until now, we have been," he said.
That means Washington could suffer more from government cutbacks than other regions.
"I think we're more inclined to be impacted here," he said. "The rest of the country is not as reliant on the government for driving the economy."
But it's unlikely the economy will pull itself fully out of the recession and into a recovery with such heavy regulations, Mr. Wilfong said.
Regulation in and of itself is not a bad thing, he said, but overregulation can be.
"We all learned a lesson. Regulators learned a lesson. Banks learned a lesson. Wall Street learned a lesson," Mr. Wilfong said. "The lesson was that you can't be totally unregulated. You have to have some rules of the road."
Swift reaction
After Wall Street collapsed at the height of the financial crisis in 2008, there was no shortage of regulations.