Wisconsin gave Gov. Scott Walker a renewed lease Tuesday, voting to keep the Republican in office in a recall election that amounted to an embrace of his union-busting, government-trimming agenda in this traditionally Democratic-leaning state.
Mr. Walker staved off a challenge from Milwaukee Mayor Tom Barrett in a race that had appeared ripe for Democrats to win just a few months ago.
But national Democrats were late to get involved, and President Obama kept his distance, leaving the field to Mr. Walker and outside groups on both sides that poured tens of millions of dollars into television advertising and turn-out-the-vote operations.
"Tonight we tell Wisconsin, we tell our country and we tell people across the globe that voters really do want leaders who stand up and make the tough decisions," Mr. Walker said at his victory party. "Now it is time to move on and move forward in Wisconsin."
He painted himself and his supporters as modern-day heirs of the country's founders who met in Philadelphia, but he also sounded a conciliatory note, saying he learned lessons from the past year and a half in office.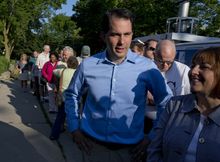 He also said he would gather the Legislature later this month to seek common ground.
"I'm committed to everybody back at home, whether you voted for me or not," he said.
Mr. Walker's conciliatory approach may be critical going forward. While Lt. Gov. Rebecca Kleefisch and three Republican state senators survived their own recall elections, a fourth did not.
Democrat John Lehman claimed victory over state Sen. Van Wanggaard in a race in Racine that erases the GOP's one-seat majority in the upper chamber and turns control over to Democrats.
Labor unions, who fought bitterly to punish Mr. Walker and his Senate allies, took some comfort in that result.
Mr. Walker is the third governor in U.S. history to face a recall and is the first to survive, and analysts said the result will be seen as a stinging rebuke to labor unions that had rallied to defeat him.
Tea party groups, meanwhile, said it marked a victory for them, and Virginia Gov. Bob McDonnell, chairman of the Republican Governors Association, said Wisconsin voters had "rewarded political courage" in retaining Mr. Walker.
Mr. Walker won by 7 percentage points, topping his margin of victory in 2010, when he first was elected to the governor's mansion in the tea-party-powered Republican wave. With all but a handful of precincts reporting, Mr. Walker led 53 percent to 46 percent.
"The state remains divided," Mr. Barrett said in conceding, and he pleaded for his voters to stay energized in upcoming elections. "There are more chapters to come, and in those chapters it is my sincere hope that all of us here will remain engaged."
Turnout was heavy across the state as the election tapped into bitter feelings on both sides, in what is likely a preview of the deep divisions that will play out nationally ahead of November's presidential election.