ELMONT, N.Y. — A drive from Veracruz, Mexico, to Belmont Park would take almost two full days and cover 1,992 miles. Throw in a detour to tiny Hastings Park in Vancouver and stops at race courses in California, and you get an idea of what Mario Gutierrez has gone through since 2006.
Then, he was a relatively unknown jockey at Hipodromo de Las Americas in Mexico City before Canadian trainer Terry Jordan took him to Hastings Park. From there, he still wasn't widely known when owner Paul Reddam and trainer Doug O'Neill watched him from inside the FrontRunner restaurant at Santa Anita Park.
"I remember looking at him riding in the stretch and the way that he was positioned on the horse and the way he moved with the horse and I said, 'Boy, that kid looks like he can ride to me,' " Reddam recalled.
Reddam and O'Neill knew nothing. Not that Gutierrez was an apprentice rider at Hastings Park, nor his path there. They liked how he rode and eventually put him on a colt with similarly low expectations, I'll Have Another.
After teaming up to capture the Kentucky Derby and Preakness Stakes, Gutierrez and I'll Have Another are one more major victory from completing the Triple Crown. The jockey's impressive ride from no-name to center of attention is the purest piece of this bid for history, but Gutierrez deflects credit.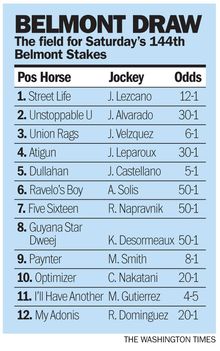 "More than anything, I'm glad that I keep not disappointing people, you know?" he said. "It's not me. It's just him. It's just all about the horse. He just keep proving people wrong."
So does Gutierrez. He had just a couple of victories in Mexico before his move to Hastings Park, and he was relatively unaccomplished still when Reddam and O'Neill put him on I'll Have Another for the Robert B. Lewis Stakes in February. Before that race was the first time Reddam even met Gutierrez.
He and I'll Have Another haven't lost since.
And the 25-year-old hasn't gotten lost in the waves of publicity, either.
"We're blessed he's wired in a special way. That's like I'll Have Another. There's no way you can train a horse to do what I'll Have Another's doing. He's just blessed to be wired a certain way," O'Neill said. "They both seem to be thriving on all the attention and all the excitement. Instead of being nervous and anxious, they're getting excited and pumped up."
Even before the Preakness, Gutierrez conceded that his life after winning the Kentucky Derby included cameras and microphones. The interviews come in English and Spanish, as he flashes a smile and his quick wit no matter the language.
But racing acumen, even aboard a potential Triple Crown winner, doesn't automatically make a star out of Gutierrez, whom O'Neill refers to as a "cool-handed kid."
"I've been very impressed with his demeanor, his attitude," said Steve Cauthen, the last jockey to capture the Triple Crown, aboard Affirmed in 1978. "He's 100 percent confident [in the horse] …. I think that's a great attitude to have."
It seems like the only attitude Gutierrez possesses. Talking about coming to New York for the first time and riding the challenging racetrack that is Belmont Park, he quipped that along this run, "Everything here is a first time for me."
As those first times pile up, the performances continue to improve. He and I'll Have Another might have gotten a favorable trip in the Kentucky Derby, but he pushed all the right buttons in the Preakness. One hesitation, and the Triple Crown wouldn't be on the line Saturday.