Adam Carriker could carve out an hour or two of family time each day during training camp in his first two seasons with the Washington Redskins. If the club's plans for 2013 become reality, though, that will be replaced by team-bonding time.
The Redskins expect to relocate their preseason operation from team headquarters in Ashburn to Richmond, the club and Virginia Gov. Bob McDonnell's office announced Wednesday morning.
The move would fulfill coach Mike Shanahan's longstanding desire to move training camp away from Redskins Park.
"You get a chance to get a little camaraderie," Shanahan said in March when discussing the possibility. "With the players being away, it forces guys to be with each other a little bit more."
That was Carriker's experience when he was a member of the St. Louis Rams in 2008. The Rams escaped the oppressive Missouri heat that summer by relocating to Concordia University in Wisconsin on the shore of Lake Michigan.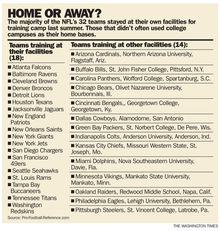 "You definitely get away from other things, from every other aspect of your life, and it's purely just about football," he recalled.
Carriker loved it, mainly because temperatures were almost exclusively in the 70s — mercy the Redskins would not enjoy in Richmond.
"I remember one day it was 80 degrees. I was like, "Oh my God, it's so hot!" he said with a laugh. Carriker occasionally ate lunch near the water and even took a boat out on the lake to go fishing during the team's day off.
His routine with the Redskins the past two summers is much different.
After the team's morning practice, he drives home, has lunch with his wife and children and takes an hourlong nap before returning to Redskins Park for the afternoon practice. Then it's home for another hour of family time before reporting to the team hotel for the night. Shanahan requires players to stay at the hotel.
"It's nice to see family," Carriker said. "It's nice to hang out. Obviously when you go away, you don't have that opportunity. Some people might see that as a positive, some people might see that as a negative."
Chris Chester spent training camp during each his five seasons with the Baltimore Ravens at McDaniel College in Westminster, Md.
To him, the biggest difference between going away to camp and being at Redskins Park last summer has nothing to do with camaraderie.
"It was definitely bare bones," Chester said. "It was not as nice as what you're used to with a nice big locker room and showers and all that stuff. That's the first thing that comes to mind — we're going to be dealing with slightly less nice facilities."
Chester's line of thinking reflects a major reason why 18 of the NFL's 32 teams hosted training camp at their home facilities last season. Teams' headquarters already are equipped with weight rooms and health and training facilities to accommodate a football team.