ELMONT, N.Y. — There's nothing in sports quite like the roar and electricity as horses turn for home in the Belmont Stakes with a Triple Crown on the line.
If I'll Have Another crosses the finish line first Saturday night, it would mean a sport soaking in jubilant celebration like no one has seen since 1978 when Affirmed became the 11th horse to win the Kentucky Derby, Preakness Stakes and Belmont.
But no one quite knows what it will mean once the initial high settles down.
"I think it's a short-term lift. There's no question about it. It's good for the game," said trainer Ken McPeek, who saddles two challengers in the Belmont Stakes. "I think that just the fact that he's taking a shot at it is good for the sport. And if he were to win, maybe the public's been waiting for another Secretariat."
Horse racing is not nearly as popular as it was in the golden age before lotteries, casinos and legalized sports betting. The challenges are many and include trying to bring more fans back to tracks and dealing with internal and external criticism about tighter controls on drugs and treatments.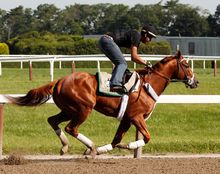 Amid questions about I'll Have Another's trainer, Doug O'Neill, and his muddy record, a victory Saturday by I'll Have Another would, at least in part, lift some of what trainer D. Wayne Lukas referred to as "black clouds" hanging over the sport.
"A Triple Crown winner certainly wouldn't hurt. But I'm not of the opinion that it's going to be a panacea for all the various ailments that thoroughbred racing has right now," analyst Randy Moss said. "It will help in the short term because it obviously will give the sport some positive publicity that it hasn't been getting much of in recent weeks and months. But the fact still remains that thoroughbred racing has some work to do to improve itself … to regain the public confidence."
Within the sport, the politics of medication and performance-enhancing drugs are a hot topic just as they are in the Olympics and Major League Baseball. But from the outside, a drop in popularity over a great number of years is a prevalent problem. If I'll Have Another brings 120,000 people to their feet with a historic victory, it will be an exciting moment but won't automatically mean more attention.
"It's incumbent upon the people in racing to make coming to the races or watching races entertaining and interesting," said Paul Reddam, owner of I'll Have Another. "This story by itself is entertaining and interesting, but it won't carry the day on a Wednesday in August. So I think that we should look in the mirror and say, 'All right, how has the world changed and how do we evolve our game so that it fits with those changes?' "
It's a question that those in charge of the sport have grappled with since the implementation of Internet wagering and general lack of attention aside from the Kentucky Derby and the chase for the Triple Crown.
"It's not an easy fix. I think a lot of people have thought about it and tried to figure it out and it's just not so easy," said Steve Cauthen, the last jockey to win the Triple Crown aboard Affirmed. "It just somehow has to gain new fans, younger fans, and drag them away from other things that probably [have a] less-intensive learning curve. Following racing is something that you have to really focus on and learn quite a bit about before you get too deeply involved."
Following I'll Have Another's run, if even just from the Kentucky Derby through Saturday, can help casual fans feel more attached to horse racing. Mr. Reddam purchased him for just $35,000, and so Doodnauth Shivmangal, trainer of Guyana Star Dweej, said a Triple Crown this year could lead to more investments in horses and the sport at large.
But being invested as a fan could have more to do with new ideas, like a free iPhone, iPod and iPad app that Mr. McPeek created called "Horse Races Now," which provides video, race replays and results. Keeping a younger generation of fans in touch with racing could be more beneficial than a Triple Crown.
"When we created it, that's exactly what we were thinking about," Mr. McPeek said. "I think part of the problem with horse racing in general is we haven't embraced new technology; we've been slow to come around on all that."
Mr. Reddam said he has plenty of ideas and some might turn out to be horrible. He offered one suggestion about in-race gambling: allowing fans to place bets well after horses leave the gates.