Reed Doughty knows a coaching moment when he sees it. It's a bit hard to believe, but this will be the seventh NFL season for the sixth-round pick out of Northern Colorado. That makes him the third-longest-tenured member of the Washington Redskins and, by far, the dean of the Redskins' secondary.
So after newly acquired safety Tanard Jackson covered a receiver underneath during team drills Thursday, leaving open a receiver deep down the left sideline, Doughty sought Jackson out for a conversation.
Such breakdowns could be common as the Redskins prepare for the 2012 season. Washington will have two new first-string safeties, an overhaul that represents the biggest uncertainty on an otherwise formidable defense.
"It's a matter of finding guys that are athletic and can be cohesive on the back end," Doughty said. "If we can communicate, then we can make some plays."
Defensive coordinator Jim Haslett concluded the 2011 season by emphasizing the importance of stabilizing the safety position. That quest began this spring with competition among several veterans looking to re-establish themselves.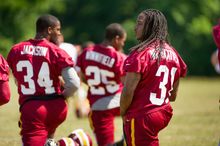 Strong safety Brandon Meriweather, a Pro Bowler as recently as 2010, is on his third team since last summer. Free safeties Jackson and Madieu Williams also were available in free agency because their previous employers allowed them to leave.
The Redskins, then, are banking on those players' hunger to reprove themselves.
"I ain't ate in about three years," Meriweather cracked.
The overhaul was necessary after a rocky 2011.
LaRon Landry, the sixth overall draft choice in 2007, was allowed to leave in free agency after Achilles tendon and leg muscle injuries sidelined him for 15 games over the past two seasons. Free safety Oshiomogho Atogwe was released after the team concluded injuries and age (he was 30 last season) slowed him.
Now Meriweather will enter training camp next month as the favorite to start at strong safety. The 24th overall pick in 2007 was released by the New England Patriots during final cuts last summer despite having made the Pro Bowl the two previous seasons. His individualistic style did not sit well with Patriots coach Bill Belichick.
Meriweather, 28, signed with the Chicago Bears the day after New England waived him. However, he played sparingly. Meriweather excels near the line of scrimmage, but the Bears play with two deep safeties.
"I think he fits in our system a lot better than he did in Chicago," Redskins coach Mike Shanahan said, "and I can see that on the practice field."
He got off to a negative start in Washington, though, when he was arrested in late April for driving under the influence.
"We feel like, if they behave themselves the right way, they stay," Shanahan said. "But if not, we go in a different direction."