KHARKIV, Ukraine — Denmark pulled off the first big surprise of the European Championship with a 1-0 victory over the Netherlands on Saturday in Group B.
Michael Krohn-Dehli provided the finishing touch that the Dutch inexplicably lacked. He scored against the run of play when he picked up a loose ball close to the penalty area in the 24th minute, left two defenders standing and shot through the legs of Maarten Stekelenburg from a tight angle.
It was something Premier League top scorer Robin van Persie never got close to as he came to symbolize Dutch futility with a couple of bad mistakes. Denmark goalkeeper Stephan Andersen made several clutch saves to secure the most important Danish victory over the Netherlands since the Euro 1992 semifinals.
"It was the only dangerous action of Denmark," Netherlands captain Mark van Bommel said. "I'm speechless, because these three points are very important."
The Dutch had their best chance of the match when Andersen gave away the ball to Arjen Robben just outside the area in the 36th minute, but the Bayern Munich winger curled his left-footer onto the far post and out of danger.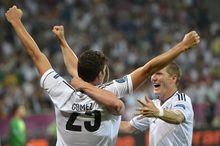 Late in the match, a penalty appeal for handball was denied when the Dutch were running out of time. Lars Jacobsen appeared to touch the ball with his upper arm in the box in a duel with substitute Klaas-Jan Huntelaar.
"It is such a clear penalty, and then you likely get a draw," Netherlands coach Bert van Marwijk said.
"There were maybe four, five six, players who had a lot of chances, and the referee also had a chance," Van Marwijk said of the penalty ruling of referee Damir Skomina.
The frustration came to symbolize the sticky night in eastern Ukraine and leaves the World Cup runners-up with two clutch games against top-10 ranked teams, Germany and Portugal.
Denmark, seen as outsider in the toughest group of the championship, can already take a huge step to the quarterfinals by beating Portugal in their second game.
"We know the Dutch, they can be very dominating. If you get scared of them, they play really good football. I think we played them in the right way," Denmark coach Morten Olsen said.
Germany 1, Portugal 0
WARSAW, Poland — Moments before he was supposed to be taken off, Mario Gomez headed in the winning goal for Germany.
The Bayern Munich striker made a surprise start Saturday against Portugal at the European Championship and knocked in a deflected cross from Sami Khedira in the 72nd minute to give the Germans a 1-0 victory in Group B.
Gomez, who had created little before the goal, was due to be replaced by Miroslav Klose, who was already waiting on the touchline on his 34th birthday. And Gomez nearly scored another goal before Klose finally came on in 80th.