✔ Pick of the Pack
Book discussion: 'Wild Bill Donovan'
According to Douglas Waller's biography of CIA founder Bill Donovan, the lawyer-turned-spymaster so intimated FBI Director J. Edgar Hoover that when Donovan died of dementia in 1959, Hoover spread a rumor that his intelligence counterpart had died of syphilis. It was a fitting, if nasty send-off for Donovan, whose exploits as the founder of the OSS (the American response to Britain's MI6 during World War II), and then the CIA, seem too wild to be true. For instance, Donovan once proposed attaching bombs to bats — the mammals — and deploying them over Germany. Other behaviors seem almost too chivalrous (he received the Medal of Honor in World War I, but refused to wear it, saying instead that it belonged to the men who had died). If there's a more fitting memorial for Donovan than the wrath of Hoover (who seemed to despise only national treasures), it's Mr. Waller's comprehensive, rip-roaring biography.
Mr. Waller reads from his work Thursday at Barnes and Noble Bethesda, 4801 Bethesda Ave., Bethesda, Md.
Phone: 301/986-1761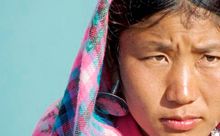 Web: barnesandnoble.com
Film: 'They Call It Myanmar'
Thanks to the release of Aung San Suu Kyi, the rise of its own punk movement and the restoration of relations with the U.S. government, Myanmar (or Burma, if you prefer the name used by the last military junta to run the country) is back in the news. But what do we really know about the place? Next to North Korea, it may be the most isolated and closed nation-state on Earth. For decades, every news outlet in the country had its own in-house censor, and Western visitors — whether they be aid providers, journalists or tourists — were tailed by government agents to make sure they didn't learn too much about the country's ongoing, violent oppression. With Myanmar on the verge of truly opening up, the best possible introduction is likely Robert H. Lieberman's film, "They Call It Myanmar." The feature-length documentary was pulled from 100 interviews and 120 hours of in-country footage, collected clandestinely by Mr. Lieberman and his crew.
Monday at E Street Cinema, 555 11th St. NW
Phone: 202/452-7672
Concert: Mike Stern
If the core tenet of selling real estate is "location, location, location," the core tenet of being a guitar god is "genre, genre, genre." The most well-known guitarists — Eric Clapton, Jerry Reed, Chet Atkins — picked a genre and dominated it. Naturally, there's an exception to this rule, and that exception's name is Mike Stern, a Boston-born jazz guitarist. The fleet-fingered Telecaster player (a strange choice in and of itself, considering most jazz guitarists go for semi-hollow bodies) has played with everybody from Blood, Sweat and Tears to Miles Davis, and in the process, every genre, from rock to bop. But while genre-crossing is normally the purview of technically masterful but soulfully malnourished studio guitarists, Mr. Stern is no dull dilettante. Instead, he's pulled from all of his gigs to come up with a style (and a soothing, reverb-drenched tone) that is so distinctly Mike Stern, so loyal to jazz's improvisational heritage, that his sound is consistent across decades, and instantly recognizable to guitar fans.
Sunday at Blues Alley, 1073 Wisconsin Ave. NW
Phone: 202/337-4141