The last time the Washington Wizards played the Portland Trail Blazers, they turned in one of their best games of the season, a 124-109 road win on Feb. 14.
On Saturday night at Verizon Center, the Wizards were hoping for the season sweep, but a dismal defensive performance and an atrocious night at the free-throw line gave the them their 30th loss, 110-99.
"We just couldn't ever get into a situation where we could put stops together in this game," Wizards coach Randy Wittman said. "We've got to become more committed defensively. You've got to be able in the fourth quarter to put two, three, four stops in a row together to get over that hump, and I didn't think we could do that tonight."
The Wizards'(9-30) defensive lapses allowed five Trail Blazers (20-21) to score in double figures, led by LaMarcus Aldridge (30 points), Raymond Felton (21 points) and Jamal Crawford (23 points).
Washington also shot just 64 percent from the free-throw line, going 16 for 25, while the Trail Blazers countered at 96.3 percent, hitting 26 of 27.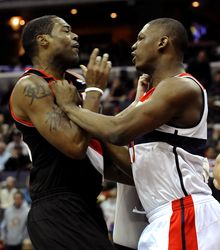 "Basically, they got whatever they wanted whenever they ran pick and rolls," point guard John Wall said. "We're used to being in that situation. Tonight wasn't good. What we did against the Lakers [on Wednesday] we wanted to do against them — rotate, double team, try to get back. We didn't do a great job."
Wall led the Wizards with 25 points on 9 of 19 from the floor, added eight assists and had zero turnovers, but both of his backcourt mates, Jordan Crawford (eight points) and Nick Young (10 points) struggled.
Perhaps the only moment that drew any real interest in this mediocre performance occurred in the second quarter, when forward Kevin Seraphin went up for a rebound and was shoved to the ground by Trail Blazers center Marcus Camby.
Camby was called for a flagrant-2 foul and ejected from the game. Seraphin was called for a technical after shoving Camby back.
Seraphin, who had six points after scoring a career-high 14 points against the Lakers on Wednesday, said he wasn't about to be pushed around.
"I fell down, I stood up and I told him, 'What's up?'," Seraphin said of his interaction with Camby. "That's my first time having somebody try to push me like that. If you want to punk somebody, that was not here."
It was also a quiet night for embattled forward Andray Blatche, who went 1-for-2 from the floor. The subject of trade rumors, Blatche was once again booed by Wizards' fans in his third game back after missing five weeks with a strained calf. He was escorted out of the locker room immediately after the game and did not take questions.
A far cry from the the excitement generated by the Lakers' visit on Wednesday, a bored Verizon Center crowd generated their own excitement by doing the wave during the fourth quarter.