Authorities say a student's threat to go on a "shooting rampage" at the University of Maryland College Park was credible, although searches of the student's dorm room and his family's home have not turned up any weapons.
Alexander Song, a 19-year-old sophomore at the school, was taken into custody Sunday morning and committed to a local hospital for an emergency psychiatric evaluation after campus police traced several threatening online messages back to him.
"He basically said, 'I'm thinking about killing people on campus at the University of Maryland.' We accepted that at face value," campus police Chief David Mitchell said at a news conference at the school Monday. "He said by his own admission he wasn't kidding."
Three people, including an Internet user in Montana and a former university police aide, forwarded messages they received Saturday from Mr. Song to campus police for investigation, police said. In messages posted on the social media websites Reddit.com and Omegle.com that were forwarded, police said Mr. Song warned people to avoid McKeldin Mall, an expansive courtyard on campus, and said he hoped he could "kill enough people to make it to national news."
As Mr. Song was taken into police custody Sunday morning, Chief Mitchell said he was "very emotionally distraught, shaking and crying" and "in need of psychiatric help." He complained of being "very stressed out" both at the time of his arrest and a week earlier when police stopped him on campus for yelling and making noise, the chief said.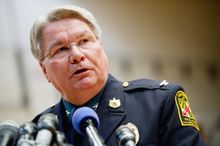 Authorities searched both Mr. Song's on-campus dorm room and his parents' home in Fulton, Md., but said no weapons were found.
Those who know Mr. Song were surprised by the incident.
A teacher who supervised an honors student research project in which Mr. Song participated described him as "one of the nicer people you would want to meet."
"The other students in a talented group seemed to look up to him. I saw him last Friday in class, and he seemed normal, other than being quieter than normal," said Steven Hutcheson, a professor of microbiology who taught Mr. Song.
A student who worked with Mr. Song on the research project said he was typically "a pretty nice guy" but had a habit of trying to get a reaction out of people through online comments.
"I don't believe he was actually serious about that," said 18-year-old sophomore Jason Albanese, who has known Mr. Song for more than a year. "It was probably him being really stupid."
Mr. Song, who lives in an on-campus residence hall, will be charged with the misdemeanor offense of disturbing the orderly conduct of the activities, administration or classes of the university. The offense is punishable by up to a $2,500 fine and six months in jail. Chief Mitchell said no additional charges are expected to be filed.
School officials have temporarily banned Mr. Song from the College Park campus. After Mr. Song is released from the hospital, where he remained under evaluation Monday, officials will review the incident to determine whether he will be allowed back on campus, Chief Mitchell said.
University President Wallace D. Loh in a statement thanked the people who reported the messages to campus police.
"Their reporting to the appropriate authorities ensured a swift and thorough investigation that led to the safe resolution of this situation," Mr. Loh said.