Georgetown coach John Thompson III isn't shying away from it, but he doesn't fully embrace it. It's impossible to ignore, however, hanging over what has been a stellar season by nearly all measures.
This particular albatross happens to be the Hoyas' recent performances in the NCAA tournament, where favored Georgetown teams have been sent packing in shocking fashion in the team's opening game the past two seasons.
Those recent failures loom over the third-seeded Hoyas (23-8) as they prepare for their tournament opener Friday against No. 14 Belmont (27-7), the Atlantic Sun champion and a popular upset pick for those looking to shake up their brackets.
And it's hard to blame everyone from pundits to parakeets picking against Georgetown, after its flameouts in 2008 (a 74-70 loss to Davidson in the round of 32), 2010 (97-83 to No. 14 Ohio) and 2011 (74-56 to No. 11 Virginia Commonwealth).
"It's no need to hide from it," Thompson said. "The seniors, they haven't had a postseason win. That's something that we strive for. We're not happy about it, but we're not running from it either."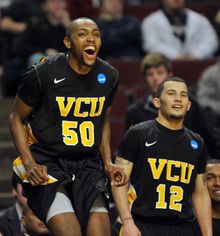 Many of the principals from those teams are long gone, replaced with energetic freshmen such as forwards Otto Porter and Greg Whittington. And the Hoyas that were part of those teams, including Jason Clark and Henry Sims, had much smaller roles than their current linchpin duties.
"This group that we're going to take into the game on Friday didn't play in any of those games," Thompson said. "Some of the people did, but this group as a whole, the team that we are now, is 0-0 and I think that's important."
That's not to say Clark and Sims have forgotten the Hoyas' struggles. From the start of the season, both players spoke repeatedly about making the tournament and winning a game as necessary elements to closing out their careers.
"We are very motivated," Clark said. "[The losses] don't leave your mind at all. You think about it all the time, and you know you can't wait get to get back to this point so you can prove yourself. This team is a lot hungrier than the teams in the past."
Now the Hoyas are back to this point, and they face a dangerous opponent in the up-tempo Bruins, who are one of the hottest teams in the country, coming into the tournament on a 14-game winning streak.
Belmont is fourth the country in scoring at 81.5 points per game and fifth in the nation in assists at 17.4 per game.
This is the kind of classic "contrast in styles" matchup the tournament committee loves to create, testing Belmont's explosive offense against Georgetown's rugged defense - 13th in the nation in points allowed per game, first in opponent 3-point field goal percentage.
"They get out in transition, but then they are extremely efficient in the half court," Thompson said. "They get good shots and make the shots they get."
While on the surface the Hoyas would appear to be better served playing a low-scoring, half-court affair, they actually seem to have a better offensive flow when the game is played at a faster pace.
"We can play at any pace," Thompson said. "This team has not been constructed to have to play fast or in the middle or slow. We can and have had success at many different paces."